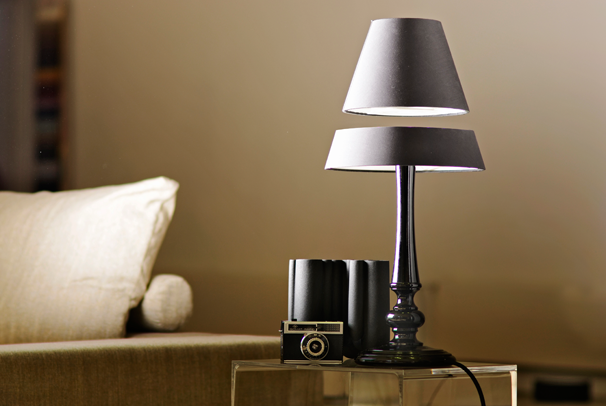 Light-Light's levitating lamps are a shockingly elegant and curious implementation of levitation technology that looks like it came right out of Back to the Future.
The top portion of the lamp floats above the lighting unit below, making it look like a cross-section was chopped out. In the video (below), the demonstrator swipes objects between the two sections to show that it is indeed floating, and they even spin it around a bit, which I would do non-stop if I owned one. The lamp uses the latest in LED technology, giving off a bright light that can be easily adjusted to the desired brightness to suit any mood.
The technology behind the hovering lampshade, developed by Crealev, is probably what you imagined: magnets. Light-Light uses electromagnets, coupled with an advanced controller, to steady the floating portion and keep it from flying off to the side.
Crealev offers a host of levitation modules that can hold various weights at different heights. They even have a video on their Vimeo channel where they demo a floating mannequin, which would definitely be enough to lure me into any store.
Don't get too excited, though: These lamps certainly don't come cheap. They go for €980, which is roughly $1,350. Although, if I could afford to pay that much for a partially levitating lamp, I definitely would.
The lamp is simple and classy looking, and the completely self-contained levitating device is hidden out of sight, creating quite a fascinating illusion. I just worry about what would happen when the power goes out. Would the lamp crash down to the ground, potentially destroying your $1,300 investment, or have they thought to add a backup battery to gently float it down in the case of a power failure?
On a side note, French artist Nils Guadagnin used the same technology to recreate a presentational rendition of the hoverboard from Back to the Future. Sadly, you can't ride on it, but it sure looks like the real deal.
[Light-Light via @chriscoyier on Twitter]
Like this? You might also enjoy…
Get your GeekTech on: Twitter – Facebook – RSS | Tip us off