In the world of Linux desktops, Ubuntu's Unity and GNOME have tended to dominate the headlines in recent months, but there's another contender that many consider an even better choice.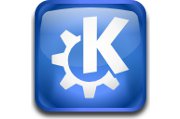 It's KDE, a desktop environment for Linux that's available for PCs, netbooks, and–as of just recently–smartphones and mobile devices.
Part of a family of free and open source software that also includes a development platform and a suite of applications, KDE is the desktop countless Linux users around the world prefer. In fact, among free software projects, the KDE community of users and developers is second in size only to that of the Linux kernel itself, according to the project's website.
KDE is also the default desktop in numerous Linux distributions, including openSUSE, the Kubuntu derivative of Ubuntu, and Mandriva 2011, which I just recently covered.
KDE turns 15 years old today, and there are celebrations underway around the globe. So–hard on the heels of yesterday's launch of Unity-focused Ubuntu 11.10–this seems like a good time to look at what sets this compelling alternative apart.
A Highly Polished Look
KDE was born on Oct. 14, 1996, out of a desire to build a "GUI for an end user" rather than experts or administrators, and that focus on usability continues today.
The highly polished look of KDE's Plasma Workspaces graphical environment now makes it the most visually attractive of all the Linux desktops in many users' opinions, and I can see why. Considerable visual refinement went into the current version 4.7 series of the software, which was released in July and includes today's current version 4.7.2.
Applications from GNOME can now blend seamlessly with KDE applications in the Plasma Workspace, and the software has generally been made able to perform better on mobile devices. Other recent additions include a cleaner default appearance for the Dolphin file manager.
Konqueror is the default Web browser in KDE, with Kontact for email. An array of other software is also included for office productivity, video, and audio, among other functions.
All in all, KDE provides a rich, graphical and easy-to-use option for Linux users. The screenshot below offers a taste of what it looks like.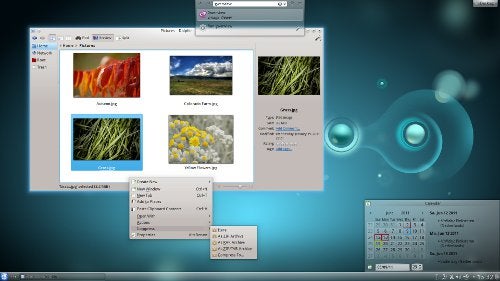 Similar to Windows
Before the advent of Unity, KDE and GNOME were considered the two big Linux desktop contenders, with GNOME frequently viewed as simpler while KDE offered more options. KDE has also been said to resemble Microsoft Windows in some ways, making it a nice choice for users already familiar with that platform.
Of course, as is generally the case with free and open source software, KDE is yours to try for free. If you don't like it, you can always go back to what you had before.
Then again, if you're not sure about Unity or GNOME 3–or Windows 8's Metro interface, for that matter–you may find KDE delivers what you've been looking for.