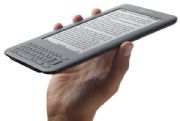 If you subscribe to the belief that rules are made to be broken, read on.
No, literally, read on. I'm talking about e-books, which you can borrow from friends and family members to read on your Barnes & Noble Nook or Amazon Kindle–but only for two weeks. If that's not enough time to finish your e-copy of, say, "The Help," you're pretty much out of luck; you'll have to see if you can borrow it again from someone else (any purchased e-book can be loaned only once) or buy it outright.
Or maybe not. I've discovered a way to keep a borrowed e-book indefinitely–or at least until you finish reading it.
The back story: I was halfway through Jonathan Franzen's "Freedom" when my e-book loan (by way of eBookFling) reached the two-week mark. I'd received e-mail notification that this was imminent, so I knew exactly when time was about to be up.
I'd been using the Kindle app to read the book on both my iPhone and my Nook Color (which I'd converted to an Android tablet in part so I could use it for Amazon e-books). The expiration date for "Freedom" arrived, and sure enough, when I returned to it on my iPhone, the book was expired and inaccessible.
Then I got to wondering: are the books "hardwired" to expire after two weeks, or is it only through communication with Amazon's Whispernet sync service that they're directed to time out? Turns out it's the latter, because I then disabled Wi-Fi on my Nook, loaded the Amazon app, and discovered that "Freedom" was still there, still readable. Because I'd cut off the app's ability to communicate with Whispernet, Whispernet couldn't tell the app that the book's loan period had expired. I'm now about five days past that period.
There are a few downsides to this approach. The big one is that I have to remember to turn off Wi-Fi every time I run the Amazon app–or just leave it off altogether, which limits my Nook's capabilities. Also, it prohibits me from downloading any new books, at least until I'm done with the current one, because the moment the app gets a chance to sync, it's game over for my expired loan.
I'm not sure if this same loophole will work with Nook downloads or e-books checked out from the library, though I suspect that both rely on the same kind of server synchronization to enforce expiration dates. I'll update the post when I find out for sure; in the meantime, if you've tried this firsthand, hit the comments and let me know if I'm right.
Also, let me caveat this by saying I love being able to borrow e-books, but think two weeks isn't enough time. Heck, a brick-and-mortar library typically gives you three weeks, and lets you renew books if you want to keep them longer. Why should e-books be any different?
Contributing Editor Rick Broida writes about business and consumer technology. Ask for help with your PC hassles at hasslefree@pcworld.com, or try the treasure trove of helpful folks in the PC World Community Forums. Sign up to have the Hassle-Free PC newsletter e-mailed to you each week.