Apple's new iPhone has been flying out of retail and warehouse shelves at an unprecedented rate. The company announced Monday morning that it has sold more than 4 million units of the iPhone 4S in just three days.
Advance orders for the upgraded iPhone with beefier hardware, a better camera and Siri, Apple's new voice assistant feature began on October 7, and it officially went on sale in stores last Friday.
"The iPhone 4S launch was delayed quite a bit from Apple's typical early-summer release schedule, leading to pent-up demand from upgraders, as well as plenty of media buzz," analyst Alex Spektor of Strategy Analytics tells PC World.
The first weekend sales figure for the iPhone 4S is more than double the number for the original iPhone 4, which sold 1.7 million in its first three days of availability.
All the heat around the new iPhone adds to the roller-coaster October the company has been experiencing. On October 4 it unveiled the iPhone 4S after months of hype. The media event and the phone were widely met with yawns from the tech press. The next day Apple announced the passing of its co-founder, Steve Jobs. With the following week came the release of iOS 5, which swamped Apple's servers as millions of users rushed to upgrade. And now, remarkable sales of the iPhone 4S are muffling the critics.
The success of the iPhone 4S is also a nod towards Apple's shrewd marketing and planning. Its release comes just as many iPhone 3G users are ready to upgrade, so customers have with fewer reasons to skip this iteration than in the past.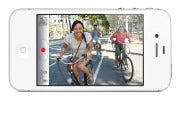 "Unlike last year, when iPhone 4 was available initially with only one carrier, AT&T, this year's iPhone was available with a total of three major U.S. carriers at launch. Sprint customers, in particular, received iPhone access for the first time ever," Spektor says.
In addition to the 4 million iPhone 4S owners, Apple says iOS 5 already has 25 million users and that more than 20 million people have signed up for iCloud.
As for all those new iPhones — 4 million sold in three days could be just the beginning. Right now the iPhone 4S is available only in the U.S., U.K., Australia, Canada, France, Germany, and Japan. It hits 22 more countries on October 28 and will be on sale in more than 70 nations by the end of the year.
Follow Eric on Twitter, and at ericmack.org. Follow PC World on Twitter, too.
iPhone 4S family
Price When Reviewed:
$599