The Sesame Street channel on YouTube, a popular stop on the Internet for preschool children, was attacked by a hacker Sunday who deleted all videos from the channel, modified its design, and posted graphic porn to it.
It took Google about 22 minutes to take down the offensive content, according to The Next Web. "YouTube's Community Guidelines prohibit graphic content," a YouTube representative told CNN. "As always, we remove inappropriate material as soon as we are made aware of it."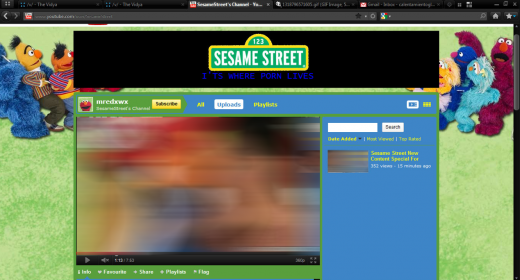 Meanwhile, the Sesame Street Workshop, which produces the kids' show, alerted its audience to the mishap. "Our channel was compromised and we are presently working with YouTube/Google to restore our original content," it said in a statement. "We always strive to provide age-appropriate content for our viewers and hope to resolve this problem quickly."
In addition to having its channel vandalized, Sesame Street's YouTube profile was altered. Its name was changed to Mredxwx and the following message was added to it:
"WHO DOESN'T LOVE PORN KIDS? RIGHT! EVERYONE LOVES IT! IM MREDXWX AND MY PARTNER MRSUICIDER91 ARE HERE TO BRING YOU MANY NICE CONTENT! PLEASE DON'T LET SESAME STREET TO GET THIS ACCOUNT BACK KIDS 🙁 PLEASE…LET ME AND MRSUICIDER91 HAVE IT AND WE GONNA MAKE ALL THE AMERICA HAPPY!"
YouTube user Mredxwx denies he had anything to do with attack. On his YouTube channel page, he posted a words-only video declaiming:
"I did not hack Sesame Street. I am an honest youtuber. I work hard to make quality gameplay videos AND MOST IMPORTANT I RESPECT THE COMMUNITY GUIDELINES."
At Mrsuicider's channel site, there's no mention of the hack. Based on the content in the channel, Mrsuicider appears to be a music lover based in Romania.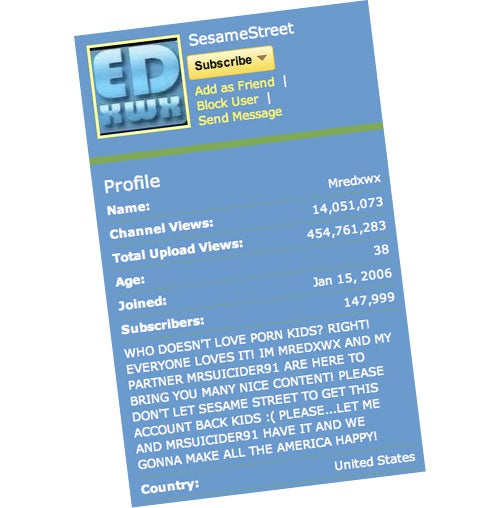 Mredxwx 's innocence was defended on one Internet forum. "This appears to have been a venge-hack," asserted "lasernut" on Reddit, a social news site. "Essentially framing this person as the culprit behind this… Someone apparently wants to grief that person."
This isn't the first time a site affiliated with the Public Broadcasting System has been the target of hackers. In May, the PBS News Hour blog was hacked and a phony news story planted on it that rappers Tupac Shakur and Biggie Smalls were still alive and living in New Zealand.
Follow freelance technology writer John P. Mello Jr. and Today@PCWorld on Twitter.