AT&T, Verizon, Sprint, and T-Mobile say they'll warn customers with text alerts before an account reaches its monthly usage limits, in order to avoid a surprise from excessive mobile bills.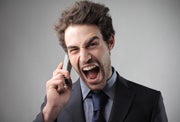 The moves comes amid regulator pressure to reduce so-called "bill shock" — extra charges to a monthly mobile bill that FCC found affect one in six mobile users, in some cases by up to $100 or more per month. The carriers' official announcement is expected later today, according to reports from LA Times and Wall Street Journal.
The warning messages will apply for voice, text, and data consumption, as well as roaming charges when traveling abroad. The alerts should arrive near the time a customer approaches the monthly limits, and before imposition of pricey roaming fees. Under a voluntary code, carriers will start sending the warnings for at least two of the alerts within 12 months, and for all four alerts within 18 months. The warnings will be free of charge, apply to phone and tablet services, and users will be able to opt out.
Why Customers Need Overage Alerts
The overage charges alerts are expected to be a welcome addition among consumers. An FCC study last year found that one in six mobile users experienced "bill shock" at some point, with 37 percent of them reporting increases of $50 or more, and nearly a quarter were charged over $100 extra.
Fast-forward to today, and most mobile users will want to keep an eye on their data charges too. AT&T was the first carrier to slash its unlimited data plan for smartphones, followed by Verizon this summer. This means that if you run over your allotted data plan, you could rack up some hefty charges on your bill, especially if you use data when traveling internationally. Sprint is currently the only major carrier to offer unlimited data plans — though the carrier is not expected to be able to maintain this advantage for too long, considering data-hungry iPhone users are now flocking to Sprint.
Follow Daniel Ionescu and Today @ PCWorld on Twitter