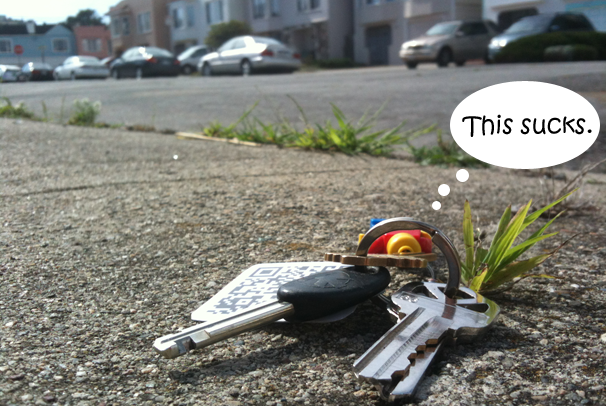 Here's the idea: you attach a QR code to your key ring that, when scanned, opens a texting window with "I found your keys!" set to send to the key owner's phone.
When I saw the instructions for this over at Pumping Station: One, I had just made my first custom QR code, so the idea was pretty exciting to me and I really wanted to have one of these unusual key ring attachments. But later that day, I noticed that two of my three roommates don't have a smartphones. I couldn't help but wonder how many of the people who found my keys would have smartphones, and how many of them would even know what to do with a QR code.
Now, I probably could have done research with statistics and percentages of smartphone users and QR codes and so on, but that sounded boring, so I decided to put this idea to the test.
I went to a local hardware store and had them make some copies of an old key. Then, I printed out a page with the QR code tiled across it and took that sheet to FedEx to get it laminated. I cut out the QR codes into tags, and attached them to 6 key rings with the old keys on them. When someone scanned the QR code, it would compose a new text message that they could send to me to let me know that they found the keys.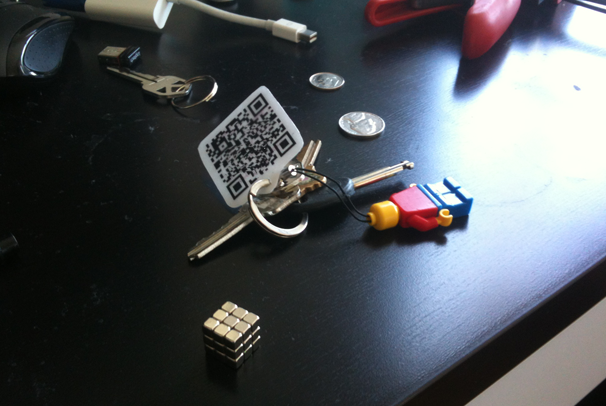 I left the keys throughout San Francisco, dropping one at a bus stop, two in Golden Gate Park, one in a parking lot, one in the parking garage at San Francisco State University, and another on a random street in the Sunset District.
A few hours after I dropped the keys in Golden Gate Park, I got a text with the message, "I found your keys!". Needless to say, I was quite excited. I had a brief dialogue with the person who found the keys and they agreed to leave them for me at the Conservatory of Flowers in the park, where I easily found them later. So far, success!
The next day, I got a text about the other key I left in the park. The finder said they had left them by a bathroom, and after some picture messaging, I managed to find the correct bathroom. However, after searching for an hour and texting back and forth with the finder (who was super helpful, by the way), I concluded that somebody else must have taken the key for whatever reason.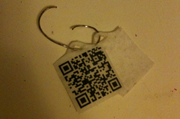 As for the key at the bus stop, it took a few days, but I eventually got a text saying that it was still there waiting for me. But when I got there, I found a mangled keychain with the QR code peeled open and the key gone.
As for the others, the QR code could have gotten wrecked or the keys kicked into a bush or down a drain. Here are some tips for those of you who want to make your own:
Cut out the QR code you want to laminate ahead of time and make sure you leave a margin of laminating plastic around the edges; that way, the laminate sticks to itself and water can't seep in and ruin the code.
Write your cell phone number on the back of the QR code tag, so the finder can still get in touch with you, even if they don't have a smartphone. Avoid giving out a landline phone number, since it could be traced back to your house, giving the finder free entry to your home. [Update: A suggestion from a reader: Set up an email address for this express purpose if you're paranoid about giving out any phone number. It may also be possible to create a QR code that'll prepare an email instead of a text message, but we haven't tested that.]
Have the person who finds your keys hide them somewhere out of sight so nobody will try to turn them in to a lost and found without letting you know.
The verdict? It's an awesome idea and I suggest doing it, but definitely add your phone number or email address to the back for non-smartphone users.
Like this? You might also enjoy…
Get your GeekTech on: Twitter – Facebook – RSS | Tip us off