At a Glance
Expert's Rating
Pros
Beautiful display still better than competition
Superb camera
Faster, smoother performance
Cons
Siri not always accurate
You can only upload video in 1080p
Our Verdict
The iPhone 4S might not be the most exciting update, but the improved camera, faster performance and the addition of Siri make it a top-ranking smartphone.
The iPhone 4S ($200 for 16GB with a two-year contract from AT&T) might not be the most exciting iPhone to date, but don't write it off: The improved camera, faster processor, and the addition of the Siri personal assistant make for one powerful smartphone. If you're upgrading from a 3G or a 3GS, you'll see a huge difference. But if you're currently rocking an iPhone 4, you might want to wait for the next upgrade. The phone's iOS still has a few things that irk me, and I wasn't overly pleased with the call quality (though no "antenna gate" issues this time), but otherwise the iPhone 4S impresses.
The Same Premium Design
The iPhone 4S is largely identical in design to the iPhone 4, which, in my opinion, isn't necessarily a bad thing. It took a bit of time for me to get used to the iPhone 4's slightly rectangular shape when I reviewed it last year. I grew to appreciate its aesthetic, however, which is both distinctly Apple and different from the pack of other high-end smartphones.
The overall design exudes elegance–from the rounded, individual volume up and down buttons to the ring/silent switch and the power/sleep button up top. Like last year's black iPhone review unit, the face and back are made of glass that is specially treated to withstand scratches and oily fingers, according to Apple. Despite the company's claims, though, I found the front and back of that earlier unit covered with fingerprints after only a couple of hours of use. This year, I got a white review unit and found fingerprints to be less of an issue.
I have to give credit to Apple every time a new iPhone comes out for making the unboxing experience such a treat for consumers. The packaging is sleek and minimalist, free of any gaudy carrier or app branding. When you slide open the box, you're not greeted by thick heavy phone manuals that you'll end up tossing in the garbage. The iPhone 4S seems more like a luxury item than just a mobile phone. Competing phone manufacturers should pay attention.
And the Same Gorgeous Display
Like its predecessor, the iPhone 4S has a 3.5-inch, 960-by-640-pixel IPS display. When you compare the 4 and 4S displays to the 3GS, you'll notice a huge difference. Whereas the iPhone 3GS's text–in the menus, in apps, or on Web pages–appears thick, fuzzy, and undefined, the iPhone 4's text is razor sharp, even when enlarged (as we tried doing when viewing a PDF).
The "Retina display"–so named because it surpasses the number of pixels that the human retina can process–also greatly improves the sharpness, clarity, and visible detail of images. I compared it to the Samsung Galaxy S II's Super AMOLED Plus display as well as the HTC Sensation's Super LCD display and found that I preferred the colors and sharpness of the iPhone over the other phones. The iPhone display fades in bright sunlight, however, whereas the other phones' screens were much easier to see.
iOS5: Good, not Groundbreaking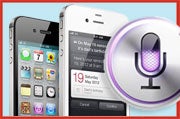 When iOS 5 debuted, I tweeted that it fixed just about everything that annoyed me about iOS 4. I was disappointed, however, by the lack of innovation in the update. Features like tabbed browsing, a single view for notifications, and the ability to use the volume rocker as a camera shutter button are long-standing Android features. Still, iOS 5 works well, runs smoothly, and is an overall strong update, and that's really what's most important.
We've discussed the new features of iOS 5 elsewhere, so I'll only highlight a few of my favorite updates. The big news here is that you can finally update your iPhone (or iPad) over the cloud–you don't need to connect it to your PC. Another welcome change is the update to notifications. When your phone is locked, you'll see notifications on the lock screen. When you unlock your phone, they disappear. If you're already logged into your phone, the notification will pop up on your screen. You can see all of your notifications in a single view in the very Android-esque Notifications Center. If you're using your phone, notifications will appear as a pop-up at the top of the screen, then disappear. To see all notifications, you simply swipe your finger down from the top of the screen. Your notifications are sorted by app and category. At the top, you'll also see widget-like stock and weather updates.
In mail, you can now add rich formatting, like bold and italic text, to messages, along with being able to indent text. Mail now has a built-in dictionary as well. Another highlight is the iMessage app, which lets you send messages to any iOS device, regardless of whether it has SMS support.
Excellent Camera, but Not #1
When Apple says that the iPhone 4S camera has 60 percent more pixels than the iPhone 4 camera, it means that an 8-megapixel camera is technically 160 percent of the resolution of a 5-megapixel camera. So really, it doesn't translate directly to improved image quality, as more megapixels aren't an indicator of better image quality on small-sensored cameras. The higher megapixel count does mean that you'll be able to print out images at a bigger size without losing resolution, or to crop images without the cropped area losing resolution.
We did a head-to-head subjective lab test of the iPhone 4S's camera versus a heap of Android phones including the T-Mobile myTouch Slide, which got top scores in our last Android phone camera roundup. The other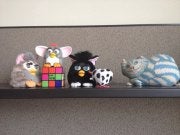 Android phones included the Samsung Galaxy S II, the T-Mobile MyTouch 4G Slide, the Motorola Droid Bionic, and the HTC Sensation 4G.
We also tested a couple of other devices alongside these smartphones. To see how much the iPhone 4S's new camera has improved over the previous version, we included last year's Apple iPhone 4 (the black one) in our test group. And for a control subject, we used a stand-alone camera–the Nikon Coolpix P300–to see how the best phone cameras compared with a well-respected pocket camera.
It was a close call for overall image quality, but the iPhone 4S ranked third in our tests, below the undefeated myTouch 4G Slide and the Samsung Galaxy S II, which came in second. You can read the full results of our tests here.
In my own casual hands-on use, I found the iPhone 4S's 8-megapixel camera to be a huge improvement over the iPhone 4's. My outdoor photos looked gorgeous with bright, yet natural colors and sharp detail. Lower-light photos weren't as good; while the flash certainly helps, it does give people a strange color tone.
I've never been a fan of the iPhone camera's user interface. It is clean and simple, but a little too simple. You can't tweak camera settings, like white balance, for example, and it only offers you one other shooting mode, HDR (high dynamic range). The myTouch 4G Slide lets you pick from many different modes, like Macro, Night, and Action modes. I do like the new grid option in iOS 5, however, which uses a bit of augmented reality to help you take level photos.
While I'm pleased with the camcorder boost to 1080p, I don't like the fact that you can only capture video in 1080p. Why isn't there an option to record in a smaller size? True, 1080p looks better than 720p, but you might not want to always record video in such a high resolution. For example, have you ever tried uploading a minute-long 1080p video to YouTube over 3G? It is excruciatingly slow. Uploading over LTE 4G, on the other hand, is an entirely different (meaning speedier) experience.
Every single Android phone I've ever tried lets you switch between video resolutions. This is yet another reason why I prefer the Android camera interface (the native and a few of the manufacturer-added interfaces) to the iPhone's.
Performance: Data Speeds, Call Quality
According to Apple, data speeds for the iPhone 4S are double those for the iPhone 4, at 5.8 megabits per second for uploads and 14.4 mbps for downloads. The iPhone 4S can intelligently switch between two antennas for even better call quality, as well as faster download speeds. Using the FCC-approved Ookla app for measuring download and upload speeds, I tested the iPhone 4S over AT&T's network in various parts of San Francisco. In the three areas I tested (The Mission, South of Market and Russian Hill), I averaged 0.38 megabits per second for download speeds and 0.21 mbps for upload speeds. This is a far cry from Apple's claimed speeds.
But at last, the iPhone goes dual-core. Again, Apple is playing a bit of catch-up here; we saw the first dual-core phones all the way back in January. Still, having the A5 is better than getting no processor upgrade at all. The A5 is the same chip found in Apple's iPad 2, which is a very good thing; when we reviewed the iPad 2, we noted the zippy scrolling in the browser, as well as the speed when we used iTunes and quickly navigated through various menus and galleries.
As you'd expect, iPhone 4S is equally as speedy. Dual-core doesn't necessarily mean double the speed, but you can see the difference between the two chips the most in video, gaming, and Web browsing. In our SunSpider JavaScript benchmark results, the 4S had a faster page loading time than the T-Mobile Samsung Galaxy S II and the Motorola Droid Bionic, both of which have dual-core chips.
Call quality was a bit on the disappointing side. My friends' voices sounded hollow and unnatural. One of my friends reported that I sounded as if I were in a tunnel, and another reported that they could hear some background noise, but it wasn't too distracting. I didn't experience any dropped calls, however. I even tested the iPhone in a notorious cell phone deadzone in San Francisco (a street in Hayes Valley). Data speeds were sluggish, but I was able to carry a full conversation without losing the signal. The iPhone 4S's new antenna technology seems to solve any "you're holding it wrong" antenna issues.
We're still conducting our battery life tests and will update this review once we get those scores in. In my own use, I didn't notice much of a difference between the battery life of the iPhone 4 and the 4S.
Siri: Your Sometimes Helpful Personal Assistant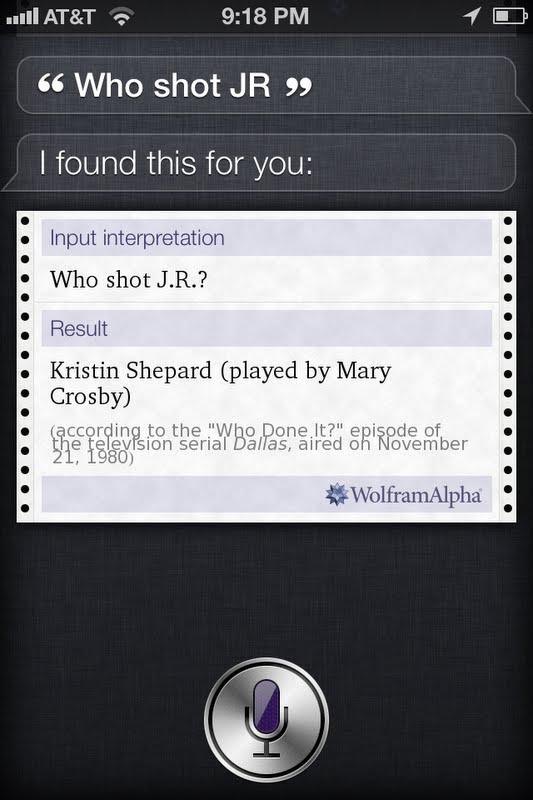 I'm a bit on the self-conscious side so I wasn't really keen on the idea of talking to my phone (without someone on the other end, that is). I was, however, intrigued by the concept of a virtual personal assistant. Siri is a sassy little thing, offering cute and often funny retorts to silly questions (Q: What do you look like? A: In the cloud, no one cares what you look like). Once that novelty wore off, I started trying to use Siri for actual tasks. Siri found a vegetarian-friendly restaurant near a music venue I was attending, texted my friend while I was trying to administer flea medicine to my cat, and looked up a recipe for making guacamole.
Siri is pretty good at understanding everything you say to it (Siri has no gender, FYI), but try to speak clearly. I also found that there are certain words it just can't understand–"plantains," for example. I do wish that the phone had a text option for situations like this. Being able to spell out the word to Siri is much easier than yelling "plantains! plan-tains!" into the iPhone over and over again. Siri is still in beta, however, so hopefully some of these minor annoyances will be fixed.
Bottom Line
As the phone editor at PCWorld, I get this question a lot: "Should I get an iPhone–or something else?" The "something else" usually translates to the latest and greatest Android phones. This question is hard to answer because it truly depends on what you're looking for from your phone. Is this your first smartphone ever? You'll probably find that the iPhone 4S has less of a learning curve. Are you a tech tweaker? You'll probably benefit from the deeper customization options of Android. Want to try something completely different? Give Windows Phone 7 a test drive. If you currently own an iPhone 3GS and are due for an upgrade, going for the iPhone 4S is a no-brainer. If you currently own the iPhone 4, however, I'd recommend holding out for the next-generation iPhone. True, the camera and overall speediness have improved, and Siri is a neat feature, but otherwise the upgrade is incremental. You're probably pretty happy with your iPhone 4's camera and performance, so the upgrades might not justify the cost. Finally, if you're looking into buying your first smartphone and want an iPhone, go for the less expensive iPhone 4.