Eager iPhone 4S shoppers need to log onto Apple.com the night before buying the phone at their local Apple store so they can "reserve" their purchase for the next day. The unusual approach to iPhone 4S sales is to prevent lines and disappointed shoppers at Apple Stores as the newest iPhone 4S continues to break sales records.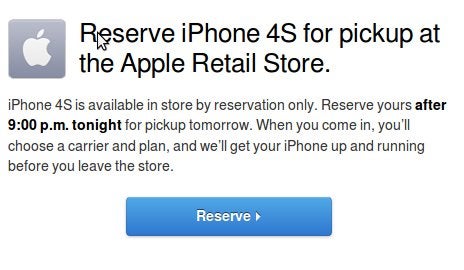 Apple's reservation policy is causing confusion with Apple customers and Apple staff as it was only created on Monday, according to an Apple Store representative. The representative also said it's unclear how long the reservation system will be in place or whether it will change in the coming days.
Apple says it recently instituted the reservation-only system for in-store purchases of the iPhone 4S at retail Apple Stores. Walk-in iPhone 4S buyers will not be turned away if there is sufficient iPhone 4S stock that is not already reserved. The reservation system acts as a guarantee for retail shoppers ensuring that the phone model will not be sold out when they show up to make a purchase.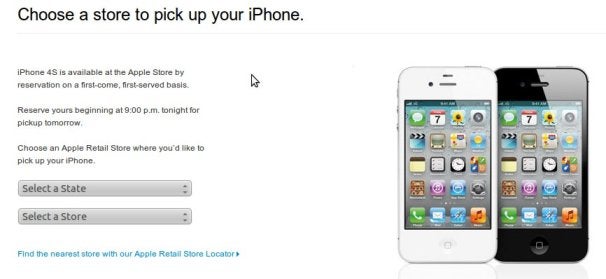 "[The] iPhone 4S is available in store by reservation only," according to the "how to buy" page on Apple's Website. "Reserve yours after 9 p.m. tonight for pickup tomorrow." The new policy was first reported by MacRumors.
Apple.com's reservation system does not require payment of the iPhone 4S or a deposit, but does require your name and Apple user ID.
Reserve Spot In Line or New Handset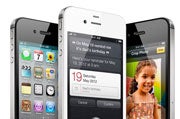 Apple says it cannot guarantee that a reservation will ensure you get an iPhone 4S, but it appears that should be the case for most people making reservations. You will be able to make a reservation for an iPhone 4S between 9 p.m. and midnight the day before your pick-up. It's not clear if the midnight cut off is Eastern time or local time based on your location.
The day of your reservation you can pick up your new iPhone 4S between 8 a.m. and 6 p.m., but the Apple Store representative was unsure if Apple would sell remaining iPhone 4S stock to non-reservation walk-in customers after 6 p.m.
Apple recently announced that it had sold more than four million iPhone 4S devices during its first three days of sales. The iPhone 4S went on sale on Friday and is available in the US, Australia, Canada, France, Germany, Japan and the UK. Apple's new handset will go on sale in another 22 countries on Friday, October 28.
Connect with Ian Paul (@ianpaul ) and Today@PCWorld on Twitter for the latest tech news and analysis.