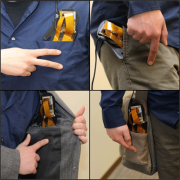 Microsoft researchers are working on a prototype nicknamed PocketTouch that lets people use a touchscreen smartphone without removing it from their pocket or bag.
Microsoft says PocketTouch consists of a "custom, multitouch capacitive sensor mounted on the back of a smartphone." People can perform multitouch gestures on the device without ever having to remove it from its case. The technology will be presented this week at the Association for Computing Machinery Symposium on User Interface Software and Technology in Santa Barbara, Calif.
"People already try to interact with a computing device through fabric," says Scott Saponas, one of Microsoft's researchers in the Computational User Experiences group. "Think of when you try to reach through your pocket to the slider that silences your phone. We wanted to take a different spin by asking: Can we use a higher-bandwidth touch surface to provide a wider range of actual input?"
A key feature of PocketTouch is an "orientation-defining unlock gesture to determine the coordinate plane." In other words, it's a gesture that lets the phone know which direction the user is approaching the phone from. This is important because a phone can be placed in a bag or a pocket multiple ways — upside down, sideways, diagonally — and, obviously, the user can't see which way the phone is pointing when they start interacting with it through the fabric.
PocketTouch reportedly works through a variety of fabrics, including jackets and heavy fleece.
At the moment PocketTouch is hardly ready for the public. But it definitely has potential, and I'm not just talking about students trying to text one another in class or businesspeople trying to silence their phone during a conference. Those of you who live in colder climates know that attempting to use your phone in the middle of the winter is a huge pain. Soon smartphone gloves could be a thing of the past.