The traditional publishing model involves a writer begging a publisher through queries, agents, and any other avenue. Once their manuscript has been accepted, the publisher prints and markets the book. The Internet was bound to change this model eventually, but Amazon has just accelerated the process by starting its own flagship publishing line, effectively cutting its largest suppliers out of part of the mix and making its own deals with writers. It's releasing 122 books this fall, including one by noted self-help author Tim Ferris. While there will always be a place for agents and publishers, if Amazon has anything to say about it, it will be a smaller one. Amazon isn't the first to think of this. Companies like Lulu will take an author's manuscript, print it, and send out a hard copy for a fee or percentage. What Amazon is doing differently is to court major authors and play in the same field as traditional publishers, effectively acting as a major imprint themselves. If you want to get a book into the hands of readers without going through the traditional gatekeepers, this new model is ideal. If Amazon garners more respect from the public by branding itself as a publisher, using its self-publishing arm CreateSpace to sell a book on Amazon.com will become an even better proposition.
Why Would a Book Help My Business?
If you run a small or midsize business, chances are that you're an expert at something. Traditionally, releasing a book would be too much work for too little reward. Amazon's distribution model changes all that. Amazon's giant audience will grow even further as it floods the market with its $200 Kindle Fire Android tablet and e-reader this fall.
How Can I Get a Book on Amazon?
Amazon's self-publishing arm, CreateSpace, allows you to publish your work and sell it on Amazon.com, as well as through the Kindle once you convert the book to that format. The process is simple. You only pay them when someone orders a book, and they deduct their royalty fee from the list price that you decide on. See Tony Bradley's guide, How to Publish Your Own Amazon Kindle Ebook, for more tips.
What Kind of Book Should I Write?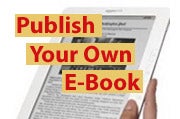 You don't have to write an 800-page tome; if you pack 80-100 pages with useful information that people are looking for, you'll do fine. Don't make the mistake of dressing up a 20-page report as an e-book; this is a transparent marketing attempt. Shop your idea around to clients and others who will give you an honest opinion first.
Don't write too much about your own company in your book, either; you want to build yourself and your firm up as experts, not hammer home a sales message.
If you're an industry expert, write the book yourself, then pay a professional editor. Get in touch with an editor prior to writing; chances are good they'll have some great tips. You may even be able to find an editor who specializes in your particular industry.
How Do I Develop a Budget?
Your budget should include the services of a professional editor and a professional cover designer. While a few thousand dollars to $10,000 may seem like a lot, if you're releasing a useful book, people will buy it and you may make that money back. Very few marketing tools offer that benefit.
What About the Cover?
Authors who self-publish often insist that it makes financial sense to invest in a good cover and layout design to sell your book, since this first impression usually sways a buyer. Hiring a decent designer will generally set you back $500 to $2000. If you don't do that, you'll have to lay out the book according to the CreateSpace requirements.
A book will cost time and dollars, just like any other marketing effort. If you're in an industry where knowledge is your capital–such as real estate, law, or finance–a book can increase your credibility. It also makes a great handout to clients. That one-time investment can continue paying out for years to come.
Angela West dreams of opening a Fallout-themed pub featuring wait staff with Pip-Boys. She's written for big insurance companies, small wildlife control businesses, gourmet food chains, and more. Follow her on Twitter at @angelawest.