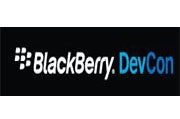 SAN FRANCISCO–The BlackBerry DevCon conference kicked off here Tuesday with RIM President and Co-CEO Mike Lazaridis unveiling a brand new operating system for tablets and phones: BBX OS.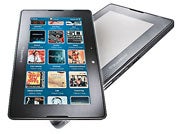 The BBX OS is a hybrid of QNX, the operating system found in the BlackBerry PlayBook tablet with the BlackBerry OS, which is currently found on RIM phones.
The operating system will allow developers to work with a large number of open developer libraries. RIM will seek out various open source libraries and port them so developers can work on them immediately for their BBX apps.
RIM did not reveal much about the appearance or features of BBX other than it combines the best of the phone and tablet platforms. Speakers showed a demo of a photo application app, built on a cascades framework that mimics sorting through piles of photos. The demo looked pretty cool: The photos move fluidly across the display and have a bit of a 3D effect. RIM also placed a lot of emphasis on 3D gaming and HTML5 applications on the new platform.
But when? Lazaridis did not say when we'll see the first BBX devices. He also did not say what the new OS means for consumers. Will people with BlackBerry 7 phones be able to upgrade to BBX OS? What about PlayBook tablet owners?
A Bad Year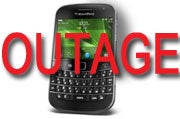 This has been a tough year for RIM. Millions of customers worldwide experienced outages with their BlackBerry devices last week. Lazaridis said Tuesday that, as an apology, customers will receive $100 for apps in BlackBerry App World.
Meanwhile, the company has been slowly declining in popularity among customers in North America. According to Neilson's Mobile Insights survey conducted over the summer, 40 percent of smartphones in the United States ran Android, while 28 percent were iPhones. RIM only accounted for 19 percent of phones among consumers.
I've written extensively about the need for RIM to completely revamp its mobile operating system. It looks like BBX OS will do just that, but will it be too late for RIM to win over consumers? With the iPhone 4S and iOS5 shipping last week, Google revealing Android Ice Cream Sandwich and Microsoft's already released Mango update, RIM needs to act fast.
If RIM waits too long to ship BBX OS phones, I fear that it won't be able to win over consumers. We'll be at BlackBerry DevCon 2011 all week, so stay tuned for more information about BBX OS and the future of RIM BlackBerry phones and tablets.
Editor's note: We've corrected this story to reflect the fact that the new BBX OS is not open source.