Over the past few years, the tech capabilities of a vehicle have gone far beyond acting as a power generator for a backseat DVD player. Car dashboards can display exactly how fuel-efficient your driving habits are, direct you with a built-in GPS, read your tweets, and read your SMS texts outloud.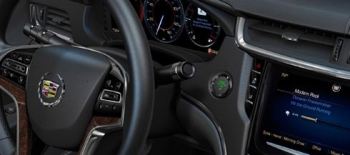 Dealing with work emails and text messages on the road usually involves pulling over, but such hands-free tech is built to cut down on accident risk. Here's a roundup of some of the smarter vehicle technologies either on the market or coming soon. Each manufacturer has its own version of integrated dashboard technology for new or upcoming vehicles.
Ford Sync Reads Your Tweets, and Maybe Your Texts
This week, Ford announced that users of its Sync service can look forward to having their phone texts read back to them by their car. This is made possible by a new Bluetooth standard called Message Access Profile (MAP). Don't get too excited yet; MAP only works on certain handsets from RIM, HTC, Samsung, and LG, and Ford is relying on ongoing adoption of MAP by handset manufacturers. Ford has told PCWorld that it's working on technology to read emails aloud, which would be useful for doing business on the road.
In addition, Sync's AppLink, which helps your vehicle talk to your smartphone, can make your smartphone apps voice-activated. This means that if you want to hear your incoming tweets, you can just ask your car to read them to you. You can also call up your favorite Pandora station.
Cadillac Cue Can Read Texts and Emails
Cadillac has just announced its own smart dashboard service with Cadillac CUE. The system will be able to read your text messages outloud as you drive. It also boasts natural language speech recognition, which allows you to give voice commands that aren't specifically worded. You'll receive instant messages and emails "through a central portal in your Cadillac," says spokesman Mickey Bly. Motor Trend magazine recently called the technology a "potential game-changer".
Email from the Dash with BMW Connected Drive
BMW's Connected Drive system allows you to email from your car via BMW online, placing your emails on the dashboard for viewing and replying. BMW Apps also allow access to Facebook and Twitter.
Angela West dreams of opening a Fallout-themed pub featuring wait staff with Pip-Boys. She's written for big insurance companies, small wildlife control businesses, gourmet food chains, and more. Follow her on Twitter at _@angelawest.