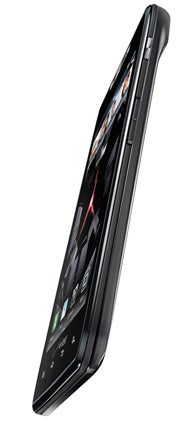 Motorola hopes to steal the thunder from the multi-million selling iPhone 4S with a new flagship device, the Droid RAZR.
Arriving in November (pre-orders start October 27), the Droid RAZR will cost $299 with a two-year contract and its claim to fame is that it's the thinnest smartphone around. With 4G LTE connectivity and a punchy dual-core processor, here's how the Droid RAZR stacks up against Android rivals and, of course, the iPhone 4S.
The Droid RAZR is no slouch: it runs on a 1.2GHz dual-core processor with 1GB of RAM, the same as the Samsung Galaxy S II variants for both AT&T and Sprint (the T-Mobile model has a 1.5 dual-core chip), while the iPhone 4S has a 1GHz dual-core processor.
The Droid RAZR also has 1GB of RAM (again, like the Galaxy S II), while the iPhone 4S only has 512MB of RAM.
The Droid RAZR has a Super AMOLED display with qHD resolution (960 by 540 pixels). By comparison, the "Retina display" on the iPhone 4S has a resolution of 960 by 640 pixels. Still, the RAZR has a 4.3-inch screen, which is larger than the iPhone's 3.5-inch screen–that means that the RAZR still has a lower pixel density.
The camera on the Droid RAZR is an 8-megapixel shooter with 1080p recording, on par with the Galaxy S II line and the iPhone 4S, as well as the upcoming Windows Phone 7 HTC Titan. The RAZR also has a front-facing 1.3-megapixel camera for video calls, better than the VGA front camera on the 4S, but less than the S II's 2-megapixel video chat camera.
Motorola really wants the Droid RAZR to outclass its competitors in slenderness. The company says the RAZR is the "world's thinnest 4G LTE smartphone." Indeed, the RAZR is very thin–7.1mm, to be precise. That's thinner than the Droid Bionic (11mm), the HTC Thunderbolt (13mm), and the S II Epic 4G Touch (9.59mm). If you ignore the RAZR's camera bulge, it's also thinner than the iPhone 4S, which has a uniform thickness of 9.3mm.
The Motorola Droid RAZR is a solid addition to Verizon's Droid line-up, and it's certainly the thinnest 4G device. However, it's not so thin when it comes to price–at $299, it's about $100 more than you're used to paying for a top-of-the-line smartphone. However, if you consider that the RAZR comes with 32GB of storage (16GB built in, plus an included 16GB MicroSD card), then it's the same price as the equivalent iPhone 4S model with 32GB of storage.
Follow Daniel Ionescu and Today @ PCWorld on Twitter