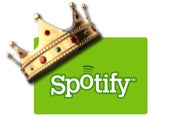 Call it the second British Invasion–this time, however, the songs are coming from the UK-based online music service Spotify, not the Beatles. Spotify is taking the United States by storm, music experts say, thanks to a deep catalog of popular tunes from major labels and a generous six-month free-trial period that allows you to enjoy tracks à la carte or even entire albums.
"Spotify, at least in terms of PR and press, has kind of sucked the oxygen out of the room," says Gartner analyst Mike McGuire.
It's already spelling trouble for nearly a dozen competing online music services, such as MOG, Pandora, Rdio, Rhapsody, and Slacker. Many of these services have been around for almost a decade, and have struggled to gain paying users.
Spotify is claiming 10 million global members, 2 million of which are paying. That's an impressive amount compared with Rhapsody, the largest digital music subscription service in the United States. Rhapsody had just 800,000 paying customers before it bought Napster.
U.S. Music Services: All Shook Up
Since the U.S. version of Spotify launched in July, the online music landscape has altered significantly. It's hard to say what impact Spotify has had on competing services, but consider the following changes that rival music services have made.
In September, MOG introduced a free option that gives users a music "gas tank" of listening credit. Users can fill the tank by exploring the site and, eventually, by viewing ads and other promotions.
On October 5, Rhapsody gobbled up Napster, acquiring an untold number of subscribers in a deal with Best Buy.
On October 6, Pandora removed its monthly listening limit of 40 hours for nonpaying users. Now you can listen for 320 hours a month before the music stops.
Also on October 6, Rdio added a new free option that, unlike Pandora, has no ads but comes with a listening time limit.
Spotify Music Rental Model Gains Acceptance
Spotify's success underscores a shift in how consumers feel about using subscription-based streaming-music services versus purchasing songs and albums, primarily from the iTunes Store. The subscription model is gathering momentum, say experts, thanks to its success in other media, such as the subscription-based streaming of TV shows and movies popularized by Netflix.
Forrester Research analyst James McQuivey wrote in a report titled "People Pay for Content; They Just Don't Own It" that in a typical month, 18 percent of U.S. consumers buy physical CDs and 13 percent purchase songs and albums online, while 2 percent pay to subscribe to streaming-music services such as Rhapsody.
The successes of Spotify and Netflix suggest that attitudes about owning media versus renting it are changing. In late September, Spotify announced 2 million subscribers internationally. According to the New York Times and public filings in Britain, where Spotify is headquartered, the service had 1.6 million paid subscribers at the time it launched in the United States. The Times also reported that in early August the service had 175,000 paid U.S. users.
Fueling the public's acceptance of such services is a plethora of apps for smartphones and tablets that make using the services simple. The crowded market, however, is holding some services back, says analyst Rob Enderle of the Enderle Group. "I think there are simply too many players in the market right now."
Enderle says Spotify's success is a wake-up call indicating that some of these streaming services "had better combine or die."
The Good, the Bad, and the iTunes Challenge
Spotify might represent the biggest near-term threat for smaller streaming services, but Apple is the elephant in the room.
Gartner's Mike McGuire thinks Apple is unlikely to compete head-to-head by offering a subscription service anytime soon. He points out that iCloud and iTunes Match provide syncing of data and media rather than streaming. Match will sync all music files, including those not purchased from iTunes, for an annual fee of $25.
"It's less about subscriptions and more about extending value of the ownership model," explains McGuire. "We're still seeing consumers who are more interested in ownership … versus the subscription services."
The central role of the iTunes store in that ownership model has more than just the streaming services a bit freaked out.
"The [music] labels are also rooting for streaming services, as a counterpoint to iTunes," adds McGuire, pointing to the record industry's fear that further growth of the massive media store could give Apple more leverage in dictating future terms on music royalties.
Unfortunately for everyone else involved, Apple has something that Spotify and other streaming services don't: billions of dollars in cash, which allows the company the luxury of not having to worry about trivial concerns like profits.
Spotify, on the other hand, saw its losses grow in 2010, according to recent financial statements.
Spotify offers free music streaming to new users for six months; after the free trial, users are limited to 10 hours per month and five plays per song. The Unlimited tier of Spotify ($5 per month) offers unlimited à la carte song and album streaming, while Spotify Premium ($10 per month) gives you unlimited streaming and allows you to download tracks to your desktop or mobile device.
The real test for Spotify comes January 14. That's exactly six months after Spotify launched in the United States and started handing out free half-year trials.
"It's all about customer acquisition," says McGuire. "How do you get the 'freemium' [advertising-supported] model to move the listeners to the point where they're actually paying?"
PCWorld executive editor Tom Spring and IDG News Service reporter Juan Carlos Perez contributed to this report.