Sony's PlayStation Vita portable game console will go on sale on February 22 in the Americas and Europe, Jack Tretton, President and CEO of Sony Computer Entertainment of America, announced at Web 2.0 Summit.
The system is slated to appear first in Japan in mid-December, Sony has said, but it hadn't given a launch date for elsewhere in the world.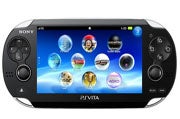 A Sony official joined Tretton on stage to demonstrate some of the Vita's features, including the ability to interact with a game via touch screen as well buttons.
The Vita will let players capture snapshots and video clips from games, as well as statistics, and share them on social media sites like Facebook and YouTube. (See also "Sony PlayStation Vita Hands-On.")
After the demo, Tretton was interviewed on stage by Jane McGonigal, game designer and creative director at Social Chocolate, who asked him about the hack of the PlayStation Network earlier this year.
"[Y]ou have to remain ever vigilant — no one is immune" to malicious hackers, he told the web entrepreneurs in the audience.

As soon as the PlayStation Network came back online, 94 percent of its members came back, according to Tretton, and Sony has attracted 3 million more since then, he said.
Asked if games played on smart phones and social networks are a danger to Sony, one of the biggest console makers, Tretton said Sony wants to be "everywhere gaming is" and provide a variety of experiences.
The social element of gaming is key for engaging players, Tretton said, echoing remarks from Zynga CEO Mark Pincus last week. For example, the Vita will have dedicated game applications for Facebook, Foursquare, Twitter and Skype, and allow merchants to attract customers by offering game incentives — such as unlocking a feature — to gamers who visit their store or restaurant, he said.