Ultrabooks with Microsoft's upcoming Windows 8 OS are due to reach market next year, and the OS could help propel demand for the devices, an Intel executive said this week.
More than 60 ultrabook designs could become available next year and "11 or so designs" will be available by the end of this year, said Tom Kilroy, senior vice president and general manager of worldwide sales at Intel, in an interview following the company's third quarter earnings call on Tuesday.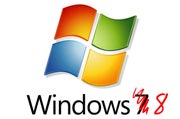 Windows 8 could help drive up ultrabook demand in the second half of next year during the back-to-school and holiday shopping seasons, Kilroy said.
In addition to Windows 8, ultrabooks will have the next-generation of Core processors based on the Ivy Bridge microarchitecture, which will have performance and graphics improvements, Kilroy said. Some four of 10 laptops sold by the end of next year will be ultrabooks, he said.
"Judging by the excitement, that's a realistic goal," Kilroy said.
Microsoft did not respond to requests for comment on when Windows 8 would be released. Microsoft released a developer preview of Windows 8 last month and a beta release is up next, said Microsoft CEO Steve Ballmer, during a speech last week at Dell World.
Ultrabooks are being promoted by Intel as a new category of thin-and-light laptops with tablet features such as always-on and always-connected capabilities. The ultrabook category was introduced midyear to regenerate interest in PCs, which have been slumping due to the growing interest in tablets.
The first ultrabooks have already been announced by PC makers Lenovo, Acer, Asus and Toshiba, and run on Intel's Core processors based on the current Sandy Bridge microarchitecture. The ultrabooks resemble Apple's MacBook Air, but are slightly thinner.
Ultrabooks next year will boast longer battery life and have touchscreens to take advantage of the Metro touch user interface in Windows 8, Intel executives have said. The Ivy Bridge processors will also have better graphics and security capabilities.
But with a current average price of around US$1,000, ultrabooks are deemed expensive for many consumers. Recognizing struggling economies and a price-sensitive market, Intel CEO Paul Otellini during the earnings call said ultrabook development is still in its early days and prices could go down by next year.
"When you look at where ultrabooks are this holiday season … a year from now you may see them at $699 and up," Otellini said. Falling prices for key ultrabook components, such as touchscreens and solid-state drives, will contribute to the price drop, Otellini said.
Windows 8 should boost ultrabook sales as Intel has traditionally benefited from new Windows releases, Otellini said. After a prolonged slump due to the recession, the release of Windows 7 in October 2009 propelled PC shipments during that year's fourth quarter to their "strongest year-over-year growth rate" in seven years, according to Gartner.
Intel's laptop business is still helped by Windows 7 as the enterprise PC upgrade cycle continues, Kilroy said.
Windows 8 OS will also work on tablets, and could help Intel in that market, Kilroy said. However, Intel faces a challenge from ARM, whose processors go into most tablets today. Microsoft's Windows 8 will work on both x86 and ARM processors, and Qualcomm, Nvidia and Texas Instruments are making ARM-based chips for Windows 8 devices.
While ARM is the incumbent, Otellini pointed out Intel can differentiate itself by bringing legacy support from PCs to tablets, a feature many users want. Microsoft has said that Windows 8 tablets with ARM processors won't run old Windows 7 applications written for x86 chips.
Intel is also readying smartphones and tablets with Google's Android OS based on an Atom chip code-named Medfield. Medfield devices will be released in the first half of next year.