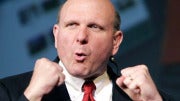 Microsoft CEO Steve Ballmer had some nasty things to say about Google's Android operating system. But the iPhone? Not so much.
At the Web 2.0 Summit in San Francisco, Ballmer trotted out a common attack on Android, suggesting that the mobile operating system is too complicated for ordinary users. "You don't need to be a computer scientist to use a Windows phone and you do to use an Android phone," he said, according to the Telegraph. "…It is hard for me to be excited about the Android phones."
Ballmer conceded that "the cheapest phones will be Android, and we are going to have to look at bringing the cost of our handsets down."
But Ballmer wasn't as quick to dismiss Apple's iPhone. He commended Siri, the virtual assistant featured in the iPhone 4S, and said that Apple is "a good competitor, but a different one." He then touted Windows Phones' ability to display information on live tiles so users don't have to scroll through a sea of icons.
"A Windows phone gets things done," Ballmer said.
Mincing words on the iPhone was probably a wise move for Ballmer, who in 2007 famously said there was "no chance that the iPhone is going to get any significant market share." Today, the iPhone is the best-selling smartphone in the world, and the iPhone 4S sold 4 million units in its opening weekend.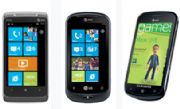 It makes sense for Ballmer to wage a war of words on Android instead. Surveys have shown that iPhone users are more satisfied with their devices than Android users, and that nearly all iPhone users intend to be repeat customers. Windows Phone has a better chance to steal market share away from Android. Microsoft is competing with Google for the attention of smartphone makers as well, whereas Apple designs its own hardware.
Still, Ballmer's been wrong about Android in the past. Here's what he said in 2008: "Google doesn't exactly bubble to the top of the list of the top competitors we've got going in mobile. They might someday. But right now…" Today, Android has more consumer market share than any other smartphone platform. Tough talk makes headlines, but underestimating any competitor is rarely a good idea.
Follow Jared on Facebook, Twitter or Google+ for even more tech news and commentary.