As the unemployment crisis continues month after month, I'm tempted to climb to the roof of my house and yell at the top of my lungs, "The maker movement creates jobs."
This so obvious a fact seems lost on national decision-makers. The entire personal computer industry was born when a small group of hobbyists, The Homebrew Computer Club, met at Stanford University in 1975. Other industries are on the verge of being born if only our nation did more to support hobbyists. What more could be done? Provide makers–hobbyists–spaces to gather and tinker.
The hobbyists shouldn't have to put up the full cost of renting such a space. The work that is happening at these hacker spaces is often of a public nature. The scope of public work should not be constrained by the limits of private, personal funding.
Here is what happens at hackerspaces: realizations and discoveries. A single realization or discovery can be worth a billion dollars or more. It stands to reason that our nation needs to be doing much, much more to promote the maker movement.
Not far from Washington, D.C., where I live, 13 Catholic high schools in Baltimore, Maryland, are vacant. These schools were sadly closed last year and are now for sale. Wouldn't 13 large hackerspaces serve our country very well? Think of how much learning, exploration, and discovery could happen in those buildings if the buildings were open seven days a week.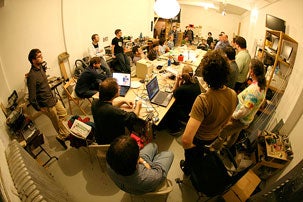 You could have high school robotics teams meeting there, elementary students learning Scratch computer programming, green tech inventors doing their thing, computer refurbishers fixing up old computers, media production people pushing the limits of community-produced videos, classes in Google SketchUp, classes in soldering, classes in 3D printing. The list goes on and on.
Who could pay for those 13 high schools to be used as hackerspaces? Bill Gates, for all the philanthropic work he has done, still has $59 billion to his name. Putting some of the Gates Foundation money to work for this purpose is a no-brainer. The annual interest on $59 billion (at 5% interest rate) is about $3 billion. That works out to $1 billion every four months, which is $250 million every month. To reach the $25 million cost for purchasing all these schools would require 3 days of interest from Gates' $59 billion.
For that matter, Steve Jobs' fine widow, Laurene, might want to put some of Jobs' $8.3 billion fortune to funding hackerspaces. But other foundations, such as the Packard Foundation, might want to jump in (not to mention the eBay Foundation, the Salesforce Foundation) and the Annie E. Casey Foundation,located right in Baltimore.
The maker movement has given so much to this country, it's high time the country put some wind beneath its wings. Let the maker movement soar and new jobs will materialize from thin air.
Here is one way of thinking about this. Each time someone realizes something, they understand or "see" it. What we need is a nation that shines from see to shining see.
The blogger, a member of the Internet Press Guild, is an educator at a public library in the Washington, D.C., area and teaches an occasional graduate educational technology class at American University, in Washington, D.C. He can be reached at philshapiroblogger@gmail.com and on Twitter at http://www.twitter.com/philshapiro
I'd like to thank the founders of Moodlerooms for helping me understand the intersection of community, technology and learning. They came to a clear understanding of this more than 6 years ago.
Previous Community Voices blog posts.