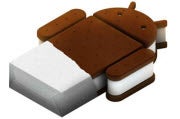 Ice Cream Sandwich, Google's latest update to the Android franchise, has plenty of improvements and changes hidden under the surface that make the mobile OS even sweeter. With more Android phones being announced every day in preparation for the holiday shopping season, here are seven new features in Ice Cream Sandwich you should be aware of.
A kill switch for crapware
Ice Cream Sandwich increases control over what can run on your phone, including bloatware that handset makers love to preload on devices. A new setting allows apps to be disabled, removing the icon, preventing it from running on the system and providing the option to re-enable later.
Taking screenshots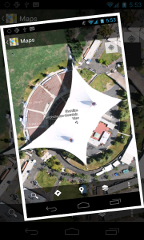 The last time I tried taking a screenshot using my Droid 2 when it was still running Froyo, I was faced with a daunting process that involved rooting that phone and using the Android SDK just to do a simple screen grab. Google has finally simplified the process, and capturing a screen is now as simple as holding down a few buttons.
Spell-check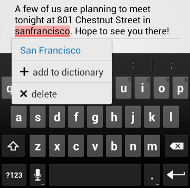 One of those features that seems like a no-brainer, Android 4.0 locates and underlines mistakes and suggests fixes like we've been doing in Microsoft Office for years now. There's also support for third-party dictionaries, spell-checkers and other text services.
Accessibility
You may never use these features, but it's impressive nonetheless that Ice Cream Sandwich is designed to be usable even by people who are blind or visually impaired. An "explore by touch" mode makes it possible to navigate without seeing the screen using audible feedback. An update to the browser also now supports reading Web content aloud.
Visual voicemail
Support for visual voicemail is now native to Android. You'll probably still have to pay your carrier to access this extra feature, but integrating voice transcriptions, audio files and more from multiple providers directly into the phone app is a big step forward.
Live effects for video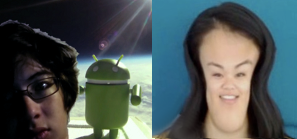 Much has been said about the new photo-taking and editing capabilities in Ice Cream Sandwich, but there's also some neat goodies for working with video. Live effects is a collection of graphical add-ons that turn your phone into a video-editing bay. A lot of the effects are mostly silly, but fun. Another cool bonus — the effects can be employed during a live video chat in Google Talk.
The healthy side of Ice Cream Sandwich
Android 4.0 can connect to devices that use a Bluetooth Health Device Profile. In other words, with the help of a third-party app, Ice Cream Sandwich can connect to wireless medical devices and sensors. That means your Android phone can monitor your vitals at the gym or elsewhere.
And don't forget to check out this comprehensive rundown on the big improvements from PCWorld's Armando Rodriguez, including the lowdown on the new People app, NFC capabilities and the face unlock feature.
Follow Eric on Twitter, and at ericmack.org. Follow PCWorld on Twitter, too.