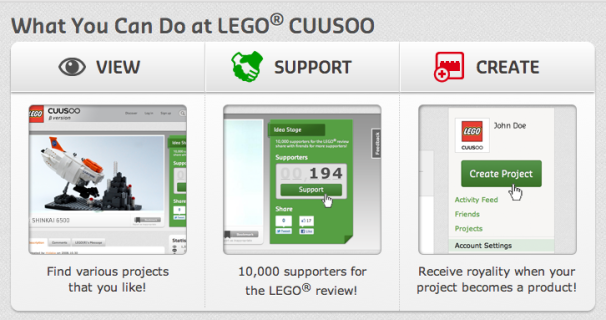 If you're like me and Lego creations you see on Flickr or the web at large make your jaw drop, you might appreciate Lego's new crowdsource project known as Cuusoo.
It's a bit like Kickstarter or Quirky for Lego, except without the cash outlay: Fans submit their builds and projects for other fans to vote on them. If a project gets 10,000 votes, it goes into consideration for mass production, and the creator will receive 1% of their brainchild's total sales.
Lego reserves final say on whether or not a project is produced, so they may decline to produce certain projects no matter how many votes it receives (one reason might be tricky licensing issues if the project uses someone else's intellectual property), but the company promises that ideas will at least get considered once they reach the 10k-vote mark.
When voting on a project, fans are asked to tell Lego their age, how much they'd pay for the kit they're looking at, and how many they'd buy. So far, Cuusoo has over 20,000 members voting and contributing Lego awesomeness, and it's worth a visit to the site just to dig the high-resolution pictures.
Though Cuusoo originally started in Japan, it's now opened up as a global beta, so if you have a talent for brick-craft, this might be a good thing for you to look into.
[Lego Cuusoo via Gizmodo]
Like this? You might also enjoy…
Get your GeekTech on: Twitter – Facebook – RSS | Tip us off