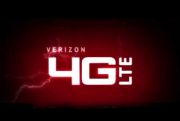 Verizon's 4G LTE network has been available in several major cities for awhile now, and it continues to expand to more regions across the U.S. We've done some early network testing, but now have tried two devices (a tablet and netbook) that integrate the 4G LTE network connectivity into the device: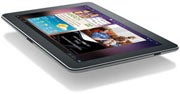 The scoop: Galaxy Tab 10.1 with 4G LTE, by Samsung, starts at $530 (plus storage capacity options, network data plans).
What is it? If you're looking for a tablet that's NOT an iPad 2, the Samsung Galaxy Tab 10.1 should definitely be on the list of other tablets to consider. From a technical standpoint, it's got many of the same (if not better) features and specifications as the Apple competitor, and there should be enough apps within the Android Marketplace to satisfy your needs to customize the device to your particular needs.
BACKGROUND: T-Mobile unveils Samsung Galaxy Tab 10.1 in US, braving Apple lawsuit
A quick look at specs: a 10.1-inch widescreen (1280-by-800 pixel LCD); 1GB of RAM (up to 32GB of storage capacity); Wi-Fi; 1GHz dual-core NVIDIA Tegra 2 processor; two cameras (2 megapixel front-facing, 3 megapixel rear camera for photos and video at 720p resolution); Android Honeycomb OS; and the ability to watch movies (built-in Flash lets you view videos on websites that may not play on the iPad), play music and access Google's services and other apps through the Android Market. It's about the same size and weight of the iPad 2, as well.
Why it's cool: The 4G LTE data access from Verizon Wireless gives this tablet a big jump over the iPad 2. While most people will likely be fine with Wi-Fi access only, connecting via 4G LTE offers faster data access and speeds for places beyond what Wi-Fi covers (most of the world beyond your office, home or coffee shop). This can be valuable for in-the-field workers, or for out-of-the-way spots that you may find yourself in. Having 4G access compared to 3G access is a big difference, too: In our tests, we received more than 20Mbps of download speeds on a regular basis within the 4G coverage area.
Grade: 5 stars (out of five).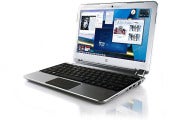 The scoop: HP Pavilion dm1 notebook (dm1-3010nr) with 4G LTE, starts at $600 (with two-year data contract).
What is it? This is a combination of a notebook and a netbook, giving users the performance of one and the mobility of the other. Features include the 4G LTE Mobile Broadband support (can also connect to Verizon's 3G EV-DO network where 4G isn't available), integrated Wi-Fi (802.11b/g/n), a 320GB hard drive, 2GB of RAM, Windows 7 OS (Home Premium), a built-in webcam, six-cell lithium-ion battery and an 11.6-inch LED screen.
BACKGROUND: HP drops price of popular Pavilion DM1 laptop to $399
Why it's cool: I'm not particularly a big fan of netbook devices, because what they give you in terms of portability you have to give up in performance, storage capacity and battery life. So the coolest part of the dm1 for me was the 4G LTE access. In my tests, I could get download speeds of 29.62Mbps in Framingham, Mass. (in the same area as a 4G cell tower), and average upload speeds of about 10.59Mbps. At my home near Worcester, Mass., I was able to achieve 28.10Mbps of download speeds on average, and about 8.23Mbps of upload speeds. For comparison, my home broadband speeds were a comparatively pathetic 4.85Mbps of download speeds, and 1.06Mbps of upload.
Some caveats: As with many netbooks, the keyboard is too small for my liking, and although an 11.6-inch screen may seem big, on a notebook it's not, especially when you're used to a 15- or 17-inch display notebook.
Grade: 3.5 stars.
Costs vs. benefits: The big decision with 4G LTE is whether the user's data usage will fall within the realms of the data plan. For access to the 4G network, Verizon offers 2GB of data for $30 per month, 5GB for $50 per month or 10GB for $80 per month. Verizon does a very good job at helping you estimate your data usage (calculator here), offers data usage monitor tools and will send alerts if you're getting close to your limits. Both devices also let you connect via Wi-Fi if you need it. The bottom line of 4G usefulness, then, comes down to access (is 4G the only option for on-the-road travelers?), as well as amount of time and data used by the end user. If the user can stay within those limits without worry, the gains in network speed are well worth it.
Shaw can be reached at kshaw@nww.com. Follow him on Twitter @shawkeith.
Read more about wireless & mobile in Network World's Wireless & Mobile section.