At a Glance
Expert's Rating
Cons
Each letter character stands alone
Our Verdict
Graveyard Font collection is the perfect way to teach little ghouls their ABCs.
Deep in the crypt that is the PCWorld Downloads font database hides a little $4 shareware collection designed by Audio Electric Systems and aptly named Graveyard Font Collection. Graveyard, Headstone, and Tombstone make up the set. Together or apart this trio of display fonts is a fine choice for autumn entertaining, particularly if you like to set monograms like R.I.P.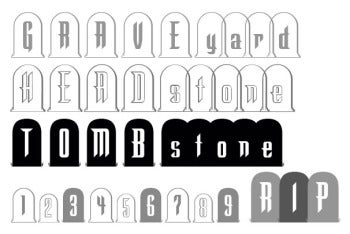 Graveyard, the first set, features single characters and numerals from the Warlock font set–a chiseled Gothic Sans in two variations–plain and engraved. In Graveyard, Warlock characters are rendered in plain black inside the outline of a simple iconic grave maker. The Headstone set uses Stonecutter, Warlock's fancier twin. (Warlock and Stonecutter, also from AES, are bundled together in the Warlock TTF Collection.) Weight has been added to each letter's outline on the left side to mimic carved letters. Headstone's markers. match the more elaborate character style. Last in the line-up, the Tombstone set reverses plain Warlock letterforms out of inky black markers set in tufts of grass—a nice graphic touch best seen in sizes above 160 points.
The Graveyard Font Collection has been available on PCWorld since 2003. To date the collection has amassed a dizzying count of 62,665 downloads..and every October, the numbers continue to rise. Our reviewer marvels that she's not the only one with a crush on novelty fonts, but also wonders how folks are faring with the trio. Each set includes both upper and lowercase, but forming whole words is problematic. Tombstone is by far the most successful of the group. The black background allows for kerning the letters fairly tight. Unfortunately, the transparent backgrounds in the other two sets require filling to avoid a mess of lines between letters. Also, be aware that the x-height varies between sets. Combine them, but expect some fiddling with the size.
For a holiday that demands bizarre creativity, a novelty font can be a valuable partner. This year's revelers will find a ghastly party awaits. Guided by house numbers set large in Tombstone, guests will be be treated to plastic goblets frosted with first name initials in Headstone and dine on red velvet cupcakes with Gravestone toppers to match. The life of this font fanatic is never dull. With the Graveyard Font Collection trio on hand, my party is sure to be the most spirited on the block.
Note: To use this font, unzip the folder and install the .ttf file in the folder C:WindowsFonts. Note that the font won't appear in your applications until you close and re-open it. For more guidance, see How to Install and Uninstall Fonts in Windows.
–Kate Godfrey