Smartphones are constantly and rapidly evolving–which can make sticking to a two-year commitment increasingly hard. Herewith, a quick look at five of our current favorites.
AT&T Apple iPhone 4S: A Solid Update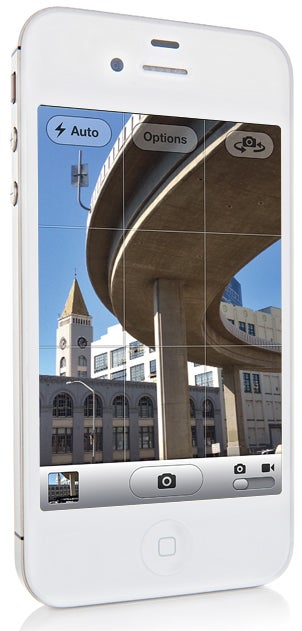 Though the iPhone 4S might not be the most exciting iPhone to appear, an improved camera, a faster processor, and the addition of the Siri personal assistant make it a powerful smartphone. If you are upgrading from a 3G or a 3GS, you'll see a huge difference. But if you have an iPhone 4, you may want to wait for the next upgrade. The phone's iOS still has a few irksome shortcomings, and I wasn't thrilled by the call quality (but I also found no an­­tenna issues); otherwise, the iPhone 4S impresses.
The iPhone 4S is largely identical in design to the iPhone 4, and it exudes elegance. Fingerprints on its glass were less of an issue than on the iPhone 4.
The phone's "Retina display"—so named because it surpasses the number of pixels that the human retina can process—greatly improves the sharpness, clarity, and visible detail of images. The display fades in bright sunlight, however.
In general I was disappointed by this phone's lack of innovation. Android has long had features like tabbed browsing. Still, iOS 5 works well, runs smoothly, and is a strong version upgrade overall.
You can finally update your iPhone over the cloud, with no need to connect it to your PC. Also, the notifications feature is more capable. Mail adds formatting and a built-in dictionary. The iMessage app lets you send messages to any iOS device, regardless of whether it has SMS support.
Apple says that the iPhone 4S camera has 60 percent more pixels than the iPhone 4 camera (8 megapixels versus 5 megapixels); that doesn't translate directly into improved image quality, but it does mean that you'll be able to print out images at a bigger size without losing resolution.
We ran head-to-head subjective lab tests of the iPhone 4S's camera versus the cameras on a bunch of Android phones and an older iPhone 4, and (as a control) a stand-alone digital camera. The iPhone 4S ranked third in image quality in our tests, below the undefeated MyTouch 4G Slide and the second-place Samsung Galaxy S II. You can see the full results of our tests here.
In my own casual hands-on testing, I found the iPhone 4S's 8-megapixel camera to be a huge im­­provement over the iPhone 4's, overall.
Data speeds for the iPhone 4S in my tests were disappointing, however—I averaged 0.38 megabit per second for downloads and 0.21 mbps for up­­loads. But at last the iPhone has gone dual-core. Dual-core doesn't necessarily mean that you'll get double your previous speed, but you'll be able to see the difference in video, gaming, and Web browsing.
The iPhone 4S's call quality was a bit disappointing. My friends' voices sounded hollow and unnatural. One of my friends reported that I sounded as if I were in a tunnel, and another noted background noise. I didn't experience dropped calls, though.
Siri, the phone's voice-directed virtual personal assistant, was able to perform the tasks I gave it, though I had to enunciate clearly (it's still in beta). Jump here for a FAQ on Siri.
Spec summary:
Price: $200 for 16GB, $300 for 32GB, $400 for 64GB with a two-year contract OS: iOS 5 Display: 3.5-inch Retina; 960 by 640 resolution Processor: Apple A5 Camera: 8 megapixels
Sprint HTC Evo 3D: 3D Goes Mobile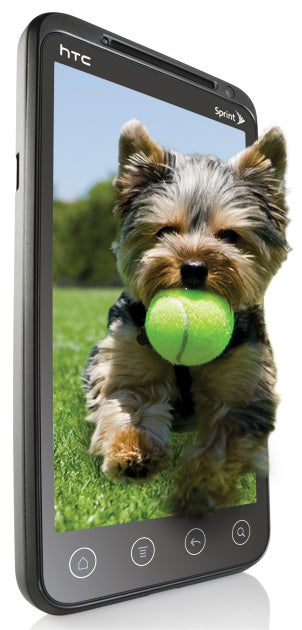 Sprint's Evo 3D from HTC is a gorgeous phone. Like its Evo 4G sibling, it's black with blood-red detailing. It feels solid but not bulky, with a nice, textured rubber backing and a slim shape that feels great to hold.
Naturally, two of its most important features are its 3D display and 3D image capture. The phone uses parallax barriers to show 3D images and video, with no need for clunky 3D glasses. The 4.3-inch qHD (Quarter High Definition) 960-by-540-pixel screen looks terrific in 2D—and pretty good in 3D. (The 3D images aren't flying in your face; you seem to peer into the phone as if into a diorama.)
You must maintain an absolute dead-on viewing angle to properly ap­­preciate the third dimension. If you're viewing at a slight angle, the image will be a blurry mess. And don't even think about trying to watch 3D movies outdoors: They completely fade in bright sunlight. (A toggle switch lets you turn the 3D mode off.)
In our head-to-head lab tests of 3D image quality, the Evo beat out the LG Thrill 4G/Optimus 3D, the only other 3D phone so far available in the United States. Our testers praised the Evo 3D for its "good layering and foreground pop" as well as for its colors and clarity. You can read our full test results here.
We weren't terribly impressed with the 3D camera and camcorder in our testing. Although the images were easy to focus on, they seemed grainy. But our Evo 3D photo had good background depth compared with the other test images. And there's something quite satisfying about capturing 3D images or videos and being able to watch them on the same device. You can also view your 3D content on any 3D TV via the phone's HDMI-out jack. This jack uses a technology called MHL (Mobile High-Definition Link) that charges your phone while it's plugged into that port.
The Evo 3D comes with the latest version (3.0) of the Sense user interface, which has a brand-new customizable lock screen. You can pick a theme for it and then select four apps that you use most fre­quently. Turn on your phone, and you'll see those four apps. To unlock your phone, you drag the circle and move it over an app; you then jump to that app.
The phone's call quality was uneven at times.
I'm not completely sold on 3D, but the Evo 3D is a powerful phone. The combination of dual-core Snapdragon processors with 4G can't be beat.
Spec summary:
Price: $200 with a two-year contract OS: Android 2.3 with HTC Sense 3.0 Display: 4.3-inch Super LCD qHD; 960 by 540resolution; 3D Processor: 1.2GHz dual-core Qualcomm Snapdragon Camera: Two 5-megapixel color CMOS sensors with auto focus for 3D; 5-megapixel color CMOS with auto focus for 2D
Sprint Samsung Epic Touch 4G: Incredible Display, Excellent Performance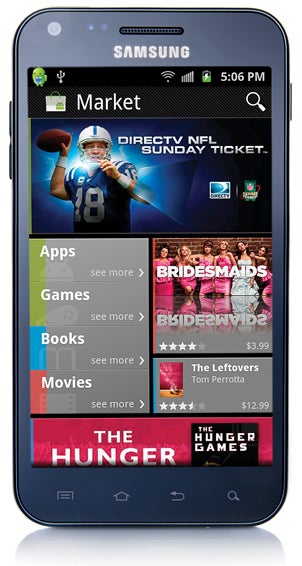 Looking for an all-around powerful Android phone that's good for both work and play? Sprint's Samsung Epic Touch 4G fits the bill. Measuring 5.1 by 2.7 by 0.4 inches, the Touch is remarkably thin and is comfortable to hold. It doesn't feel as solidly built as some competing models, however, and it seems somewhat plasticky.
The 4.52-inch display on the Epic Touch is gorgeous—one of the best we've ever seen. It uses Samsung's Super AMOLED Plus display technology, which we first saw in January at the Consumer Electronics Show in Las Vegas. The display's colors looked bright, details were crisp, and you can see the contents of the screen well even from a fairly sharp angle. Blacks were deep, and colors were richly saturated. Even in direct sunlight, the display remained quite visible. I did see that whites had a slightly bluish tint, but this wasn't too noticeable.
One other quibble: Text isn't quite as sharp as on the AT&T Galaxy S II. The Epic Touch's display is slightly larger than the one on the AT&T model (which measures 4.3 inches), so the larger screen may have compromised text sharpness. Text re­­mains quite readable, but I noticed the difference.
Like most of this year's killer phones, the Epic Touch 4G is powered by a 1.20GHz dual-core Samsung Exynos processor. I experienced reliably good Sprint WiMax 4G coverage in San Francisco. Pairing Sprint's 4G network with the Samsung Exynos dual-core processor makes for some excellent Web browsing, too. Of course, 4G coverage and signal strength will vary depending on your location and whether Sprint offers 4G in your city.
Call quality over Sprint was generally very good.
The Epic Touch's camera takes excellent photos indoors and out, although colors on indoor shots looked a bit oversaturated. Details were quite sharp. And the camera's shutter speed was fast enough to capture action shots of sports, kids, and other quick-moving subjects.
TouchWiz 4.0—Samsung's custom interface for Android—isn't for everyone, so be sure you test-drive the Epic Touch in a Sprint store before you buy. TouchWiz lets you pinch your home screen to see thumbnail-size versions of all of your screens.
The Contacts feature gets some new gesture-based functions. Swipe right on your friend's name, and you'll start a call with them; swipe left on the name, and you'll jump to the SMS composer to send them a text message. Each contact's card comes with your communication history, too.
Samsung throws in a few other gesture-based, but gimmicky controls. For example, you can zoom in and out of images in your gallery or in the brows­­er by tilting the phone. But this can be awkward.
If you want a phone that can do it all—and do it quickly—the Epic Touch 4G is hard to beat.
Spec summary:
Price: $200 with a two-year contract OS: Android 2.3 with Samsung TouchWiz 3.0 Display: 4.52-inch Super AMOLED Plus display; 800 by 480 resolution Processor: 1.2GHz dual-core Samsung Exynos Camera: 8 megapixels
Next page: The Best Camera Phone
T-Mobile MyTouch 4G Slide: Best Camera Phone Ever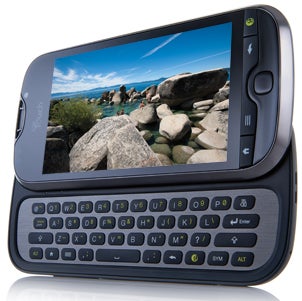 Ready to ditch your stand-alone camera and make some space in your bag? The HTC-built T-Mobile MyTouch 4G Slide has the best camera of any phone we've seen. But sometimes phones with a single headlining feature, such as an extremely powerful camera, are lacking in other areas. Fortunately, this isn't the case with the MyTouch 4G Slide: Overall, it is a very strong smartphone.
Still, let's first talk about the camera. The 4G Slide's 8-megapixel camera blew the competition out of the water in our head-to-head lab tests—it re­­ceived the highest overall scores for exposure, color, sharpness, and lack of distortion. It wasn't exactly a close finish between the Slide and the second- and third-place phones, either: In our tests, the Slide scored significantly higher in all categories, including lack of distortion, where it received its lowest score. You can read the full test results here.
In addition to delivering good overall image quality, the MyTouch 4G Slide offers a wide array of shooting modes. My favorite mode, SweepShot, lets you take panoramic photos—something you generally need a separate app to do on other phones. You press the shutter and move the camera from right to left, and the camera stitches together a panoramic image instantly. This mode is incredibly fun to play with and the resulting photos look reasonably good, though sometimes they don't stitch together quite accurately.
Another useful option that the My­­Touch 4G Slide provides is the ClearShot HDR (high dynamic range) mode, which closely resembles the iPhone's HDR feature. It snaps a group of photos in rapid succession at different exposure levels, and then "stacks" them in the camera to bring out highlights in shadowy areas and create an HDR shot. The mode permits a greater dynamic range between the lightest and darkest areas of an image so that the person viewing the shot sees more detail in shadows and better clarity in bright colors. The BurstShot mode is another unusual feature for a phone camera. It takes pictures in rapid succession paparazzi-style as you hold the shutter button down. BurstShot is useful for snapping photos of quick-moving objects, like kids and pets.
The MyTouch can shoot true HD video in up to 1080p resolution. Video quality was very good, but it didn't score as well in our tests as still images.
Aside from its superb camera, the MyTouch 4G Slide earns plaudits for its easy-to-navigate user interface, its crisp Super LCD display, and its smooth performance overall. And for people who just can't seem to get comfortable with typing on a touchscreen, the Slide also has a slide-out full QWERTY keyboard—a feature that's becoming a rarity in today's high-end smartphones—with keys that are nicely spaced but too flat for my liking.
Call quality over T-Mobile's network in San Francisco was reliably good, and I did not experience any dropped calls. Friends on the other end of the line reported that though my voice sounded a bit distant, it came through clearly, with no distortion.
Spec summary:
Price: $200 with a two-year contract OS: Android 2.3 with MyTouch overlay Display: 3.7-inch WVGA Super LCD touchscreen; 800 by 480 resolution Processor: 1.2GHz dual-core Qualcomm Snapdragon Camera: 8 megapixels
Verizon Motorola Droid Bionic: Dual-Core, 4G, and More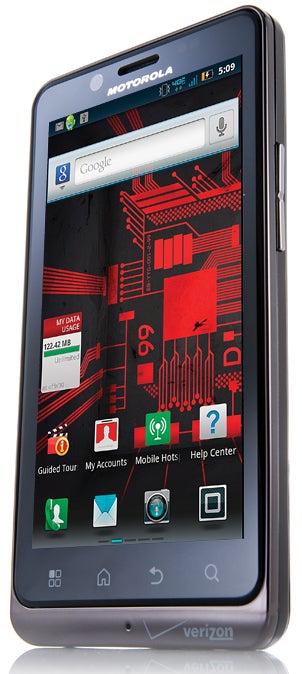 As a business phone, Motorola's Droid Bionic (from Verizon) is a solid choice. It has a steep price of $300, but the pairing of a dual-core TI OMAP processor with Verizon's superspeedy LTE network makes it very fast. Its accessories (at additional cost) let it work as a kind of secondary computer.
When you pick up the Bionic, you'll immediately notice how solid and sturdy it feels. It has a glass display with a thin metallic bezel surrounding it, giving it a refined, sophisticated look. But the 4.3-inch qHD (Quarter High Definition) display isn't as sharp as we expect a 960-by-540-pixel screen to be.
Unlike other Motorola phones, the Bionic is not tied to the MotoBlur cloud service. Instead, it offers an app, called ZumoCast, that lets you get to files on your PC without having to upload or sync them. You can access everything from PowerPoint files to iTunes playlists—certainly a useful feature.
One major accessory, the Motorola Lapdock ($300), turns the phone into a very basic laptop. The dock itself has no computing power—it's basically nothing more than a monitor and a keyboard; the Bionic does all the heavy lifting, powering the entire setup. The Lapdock has its own battery and will charge the phone when it's plugged in (you must keep the dock charged).
Another accessory, the Bionic's HD station, hooks up to a monitor or TV through HDMI and gives you access to the phone's "webtop" mode. You can use it to open the full Firefox browser as well as a slew of specially made productivity apps. Certain apps can run at full screen on a larger display.
The Lapdock seems a bit overpriced at $300. The HD station costs $100; a standard dock and a vehicle navigation dock are $40 each.
The HD station has three USB ports, so you can plug in a keyboard and mouse for input and navigation on a bigger screen; it makes for a great temporary desktop because you can use the Bionic's LTE connection when browsing the Web—and with its remote, you can give presentations or watch video.
Call quality over Verizon's network was uneven—I had to adjust the volume on almost every call.
Spec summary:
Price: $300 with a two-year contract OS: Android 2.3 with MotoBlur widgets Display: 4.3-inch qHD; 960 by 540 resolution Processor: 1GHz dual-core TI OMAP Camera: 8 megapixels
CTIA's Hot Phones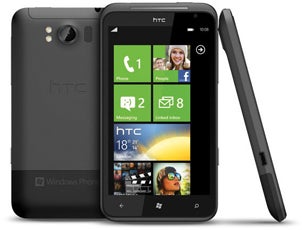 The recent CTIA mobile trade show showed off quite a few enticing phones. Trends included Windows Phone Mango devices, handsets from Chinese makers, and intriguing prepaid phones. Several models sported large screens (such as the HTC Titan's 4.7 inches) or supported HSPA+ 4G networks. One Mango phone, the HTC Radar, offered an impressive, all-white design. The Motorola Atrix 2 carried a high-resolution display. Some phones may be available by the holidays. See more on these forthcoming phones here.