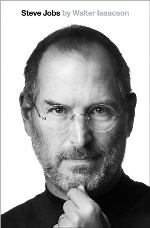 Did you know that Apple co-founder Steve Jobs hated Android, Google's mobile operating system? I mean, really, really hated Android. How about the fact that the Apple II's design was inspired by a kitchen appliance and that Jobs never truly respected Microsoft co-founder Bill Gates as an innovator? That's just a taste of some of the interesting things about Jobs that are packed into the book Steve Jobs by noted biographer Walter Isaacson.
The authorized biography doesn't go on sale until October 24, but several news outlets, including the Associated Press and The Huffington Post, obtained copies of the book a little early. In separate reports, each outlet dishes on Jobs' views about Google, Microsoft, illness, health and even President Obama. Steve Jobs died on October 5.
Here's a look at five (mostly) tech-related tidbits from these fascinating previews.
Android Thermonuclear War
We've heard before about how Steve Jobs purportedly felt betrayed by Google over Android and believed the search giant was trying to kill the iPhone with its mobile OS. But Jobs made his feelings about Android clearer to Isaacon, saying he was "willing to go thermonuclear war" against Google over Android, according to the Huffington Post. Jobs also referred to Android as "grand theft" of Apple's iPhone and was purportedly willing to spend every last dime of Apple's $40 billion cash reserves to get rid of Android.
Apple is currently engaged in several court battles with Android smartphone manufacturers including HTC, Motorola, and Samsung. The iPhone maker has so far not sued Google directly over Android.
Inspired by Cuisinart
The Apple II, first released in 1977, is considered one of the most important PCs in history hailed largely for its innovative design. Apple's first major hit was designed to look appealing when sitting on your desk as opposed to the common look for computers of that time, such as a sheet metal casing and exposed wires everywhere.
Despite its flashy appearance, the Apple II wasn't always meant to be a looker. Originally, the device was going to include a plexiglass cover and a roll-top door, according to the AP's report. But after a trip to a department store where Jobs saw a Cuisinart food processor, the Apple co-founder was inspired to use molded plastic for the Apple II's casing instead of metal.
Mourned HP
It has been recounted on several occasions how Jobs was inspired by Hewlett-Packard. He even worked for HP as a summer employee and, at the age of 12, phoned HP co-founder Bill Hewlett at home for some help on a school project. So it perhaps comes as no surprise that Jobs did not take any pleasure in the computer maker's failure with its TouchPad tablet. Jobs reportedly told Isaacson that HP was once a great company that was now being picked apart and destroyed.
The Gates Opinion
Microsoft co-founder Bill Gates grew to respect Jobs. In 2007, during a joint interview with the Apple chief at the D5 conference Gates commended Jobs for creating the first mass market PC, the Apple II.
Jobs, on the other hand, didn't return the favor. In Isaacson's book, Jobs called Gates "unimaginative" and someone who "shamelessly ripped off other people's ideas," according to the Huffington Post. Jobs even said Gates was more comfortable in philanthropy, because of his lack of imagination. Ouch.
Jobs To Obama: Let Me Sell You
Apple is often admired for its advertising campaigns, and Jobs apparently offered to lend his marketing genius to President Obama by creating ads for his 2012 re-election campaign. The Apple chief made the same offer to the Obama campaign in 2008, but the partnership led nowhere after friction developed between Jobs and Obama's then-chief strategist David Axelrod.
Steve Jobs by Walter Isaacson is available for pre-order on Amazon and Barnes and Noble for $18 and tops the each store's bestsellers lists. CBS' 60 minutes will broadcast an interview with Isaacson about Jobs on Sunday.
Connect with Ian Paul (@ianpaul) and Today@PCWorld on Twitter for the latest tech news and analysis.