Leaked video of an upcoming Gmail redesign looks good at a glance, but upon closer inspection, it also makes one change that's sure to annoy users.
At the 0:54 mark in the video, you can see a text-based Gmail advertisement in a new place, immediately below the e-mail reply field. This is in addition to the ads that Gmail already displays along the right sidebar.
Although the Gmail redesign hasn't gone live yet, and things could change before it does, the new ad placement looks like the latest attempt by Google to squeeze more advertising dollars out of its e-mail service. Earlier this year, Google announced plans to make Gmail ads smarter by collecting data over time instead of simply scanning your current e-mail message for keywords. Judging from the redesign preview video, it looks like these smart ads will appear in the new location, below the e-mail reply field.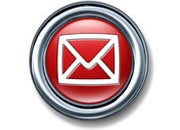 Google has previously experimented with color image display ads, but they've only been sighted sporadically so far.
On the bright side, Google appears to be fixing some of Gmail's other annoyances with the redesign. Chat and label windows will be resizeable, the search function will be streamlined with a clean-looking drop-down menu, and the entire page will automatically format itself to fit any window size in the browser.
Follow Jared on Facebook, Twitter or Google+ for even more tech news and commentary