The second incarnation of Google's TV set top-box software will incorporate apps from the Android Market and will look a lot like Android for tablets. A leaked — perhaps accidental — sneak peek at the update indicates Google TV 2.0 will feature full-blown Android Market integration for apps and content that should enhance the TV part of Google TV.
A series of images showing the upcoming OS are posted on the Zatz Not Funny blog, offering a glimpse of Google's ongoing work.
Google TV 2.0 should benefit from an interface facelift, inspired by Android Honeycomb for tablets, but most importantly, from Android Market integration. The images of the new interface show you will be able to download apps directly on the Google TV box, such as CNBC Real-Time, Fox Business, or Adult Swim. An app for QVC is also showcased, and a fireplace app, as a screensaver for your TV.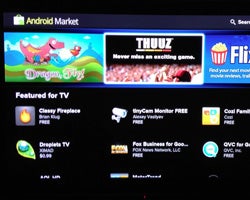 The initial version of Google TV never really caught on, as its main functionality was limited to search for actors, sports teams, or channel names and pull content from the Web and TV listings for you to watch. If you had a USB webcam, you could also turn the TV into a huge video chat monitor, but there just wasn't enough content on the platform to make Google TV a viable set-top-box replacement, especially as some TV network sites blocked streaming via Google TV (this doesn't seem to have changed in 2.0).
The Logitech Revue was the initial set-top box to run Google TV, and disappointed reviewers. It was very pricey ($299) for a device with no storage or DVR capabilities, and requires a full-size keyboard to control it. Unsurprisingly, the Revue did not do well with consumers, as Logitech saw more Revues returned than sold. A whopping $200 price drop followed, bringing the Revue on par with the pricing of Apple TV at $99 — which, coupled with the upcoming Google TV 2.0 software update, makes for a much more enticing product.
There's no word on when Google TV 2.0 would be released, as the reboot was promised this summer. Scott Webster at AndroidGuys expects an official unveiling of the updated Google TV on November 8 at Streaming Media West 2011, a conference on the online video ecosystem, where Adobe, Hulu, and CBS will be among the participants. Meanwhile, it's also unclear whether new hardware will accompany Google TV 2.0.
Follow Daniel Ionescu and Today @ PCWorld on Twitter