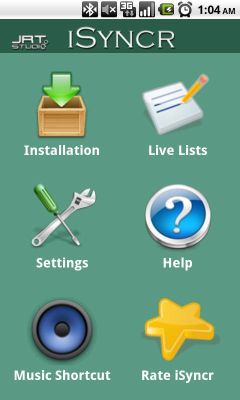 It's not uncommon to have iOS and Android users living under the same roof. Indeed, perhaps you've been an iPod owner for many users, but recently decided to pick up an Android-powered smartphone or tablet. Now the question becomes, how do you sync your iTunes music and playlists with your Android device?
You can, of course, side-load music from your desktop to your device, meaning copying it over manually. But that's not nearly as easy or convenient as true synchronization. It is, in a word, a hassle.
Enter iSyncr, which combines a Windows utility and an Android app to keep your phone/tablet in sync with iTunes. It's dirt-cheap, and it works like a charm. There's even an optional Wi-Fi add-on for syncing your music wirelessly.
To get started, you simply buy the app from Android Market for a whopping $2.99. When you first run it, it will install a small Windows utility on your device and/or storage card. (If you're going to be bringing over a lot of music, a storage card is definitely your best bet.) Then you just connect your device to your PC, enable USB storage, and run the iSyncr utility.
From there it's a simple matter of choosing the playlists you want to sync. When the copy process is done, "safely remove" your phone/tablet, then fire up the music app. Presto! Your iTunes favorites have magically appeared. The app also supports syncing in the other direction, meaning songs purchased and playlists created on your device can be synced back to your PC.
This gets even better if you use the free iSyncr Wi-Fi Add-On, a desktop server program for Windows that enables synchronization without the USB cable.
Three bucks to solve a huge music-syncing hassle? Worth every penny, in my humble opinion.
Contributing Editor Rick Broida writes about business and consumer technology. Ask for help with your PC hassles at hasslefree@pcworld.com, or try the treasure trove of helpful folks in the PC World Community Forums. Sign up to have the Hassle-Free PC newsletter e-mailed to you each week.