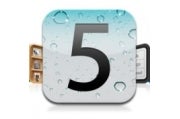 Previously, one of the great irritations of owning an iPhone, iPad, or iPod Touch was that you were constantly forced to plug in your phone or tablet to move data from your computer to your device. New features in iOS 5, however, finally allow you to sync all your data without having to go through your computer.
With these new features, you can sync and update your iPad or iPhone wirelessly. You'll encounter a few trade-offs–for instance, wireless syncing is significantly slower than syncing via USB–but after you install iOS 5 through iTunes, you may never plug your iGadget into a computer again.
[Read: Apple iOS 5 Review: Ambitious Update Rings In the Changes]
Syncing Without Wires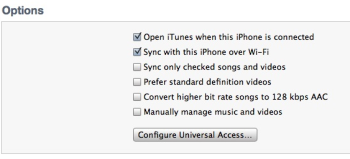 Until iOS 5, Apple required you to plug in your phone or tablet in order to shuttle new data out of iTunes and onto your device; for each new album, for example, you had to plug in and sync up. iOS 5 offers an easy alternative: Just check the box next to the 'Sync with this [device name] over Wi-Fi' option, which should now appear in iTunes whenever you sync any iOS 5 device.
If you plug your phone or tablet into a power outlet, and the device is connected to the same wireless network as your computer, the two now will automatically sync their information. And if you're in a hurry, you can manually force your iOS device to sync up right away. Just go to Settings, General, iTunes Wi-Fi Sync, and press the Sync Now button to get your new music and apps onto your iPad or iPhone whenever you want.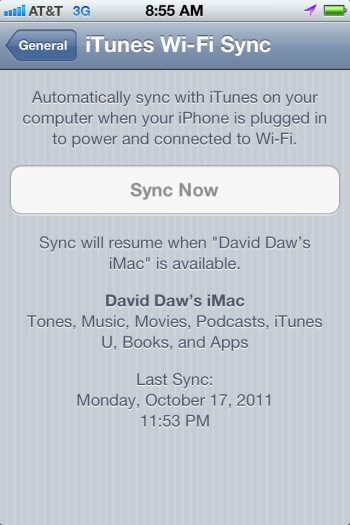 iOS 5 also improves the way iDevices handle software updates, ending the irritating process of updating the operating system through iTunes. Before iOS 5, you had to plug your phone or tablet into your computer, wait for the computer to download the new iOS software, wait for it to load the software on your device, and then wait for the device to update and restart itself.
The whole process could eat up an hour or more, and your iOS device was stuck tethered to your computer the entire time–frustratingly immobile and unusable. Now, once iOS 5 is installed, you can download any future iOS software updates directly to the device. Just approve the update, and your phone or tablet will download and install it; no need to attach it to your computer. Your iGadget will be unusable for only a minute or two as it installs the iOS update and restarts.
iCloud Service
iOS 5 also marks the launch of Apple's free iCloud service, which automatically uploads and backs up data to Apple's servers. The company intends for this service to be used with iTunes, but it's also a great way to unhook your phone or tablet from your computer without fear. iCloud automatically backs up all your book, app, and music purchases, even if you never plug the device in for a traditional backup with iTunes. If your gadget ever goes missing or has its memory wiped, you'll be able to restore most of your data by retrieving it from iCloud.
Not a Perfect Solution
All this wireless syncing has some drawbacks, however. For starters, you can't sync your music or videos over Wi-Fi unless you have iTunes open, even with iCloud. Syncing your data wirelessly also takes much longer than the process would if you connected your gadget directly to your computer. If you're syncing only an album or two, you probably won't mind the slower speeds, but if you're regularly switching out gigabytes of music or video, syncing could take hours over a wireless connection.
Clearly Apple hopes to alleviate this problem with iTunes Match, the music streaming service that's set to launch in the next few weeks. Since iTunes Match will let you stream all the music in your library with ease (or so the company promises), users with music collections larger than their device's storage capacity won't need to swap out their music.