As Nokia World approaches on Wednesday, details about the Finnish firm's Windows Phone 7.5 — that's Mango — lineup are beginning to emerge.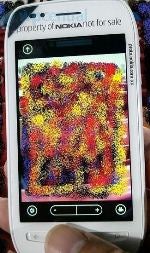 It appears that three Mango models will be introduced at the company's showcase in London. At the low end of the price spectrum will be the "Sabre." It's expected to have a 3.5-inch LCD, 5-megapixel camera, 1.4 GHz processor, and 1GB of on-board memory. Nokia's plans to introduce Sabre have been known since the end of last month when Microsoft Canada accidentally mentioned the phone in the terms and conditions of a promotion it was running.
In the middle of the pack is the Nokia 800, or "Sun," also referred to as "Sea Ray." It's expected to have a 3.7-inch touchscreen, 1.4 GHz processor and 8-megapixel camera with Carl Zeiss optics.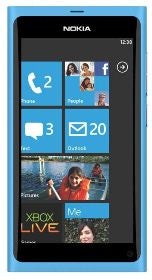 Nokia has been sneaking glimpses of the Sun in ads appearing in recent episodes of popular shows in the U.K., such as X-Factor and Downtown Abbey. Leaked photos of the model show it will be offered in three colors: blue, pink, and black. They also show all controls for the device — power switch, volume rocker, and camera button — to be on the right side of the unit. A speaker grill can be seen at the bottom of the phone.
Expected to be at the high end of Nokia's Mango lineup is the "Ace." It will have the largest display of all the mobiles in the lineup — a 4.3-inch AMOLED screen — as well as a 1.4 GHz processor, 16GB of storage and an 8-megapixel camera with Carl Zeiss optics. The phones will reportedly support HSPA+, which is used by AT&T and T-Mobile in the United States, but a version that supports 4G on AT&T's network may be released in the first quarter of next year.
Nokia announced in February that it was tossing all its eggs into the Windows Phone 7 basket, so the rollout of Nokia's WinPho 7.5 lineup marks a milestone for the platform because it could determine Microsoft's future fortunes as a technology player in the mobile market.
"The Nokia partnership is the only potential catalyst for Windows Phone success," Rob Sanfilippo, research vice president for Directions on Microsoft recently told the E-Commerce Times. "If Nokia's transition to Phone 7 goes smoothly and quickly, and Nokia is able to preserve its customer base, Phone 7 could be given the boost it needs to achieve sales numbers similar to iPhone and Android-based phones."
Follow freelance technology writer John P. Mello Jr. and Today@PCWorld on Twitter.