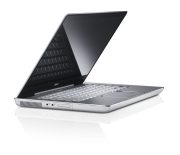 Dell unveiled the XPS 14z, an ultrathin laptop Monday that squeezes a 14-inch display in the smaller body of a 13-inch laptop. At less than an inch thin, and starting at just under $1000, the XPS 14z goes head to head with Apple's 13-inch MacBook Pro—and just in time to make things interesting for laptop buyers, since Apple just recently refreshed the MacBook Pro line.
Like big brother Dell XPS 15z, the XPS 14z obviously takes much inspiration from Apple's sleek MacBook Pro—with a couple of notable differences. First, there's the larger 14-inch HD (1366 pixels by 768 pixels resolution) display within the 13-inch footprint. This is accomplished, as you can see, by the smaller bevels, so the screen is nearly edge-to-edge on the laptop. This gives you 10 percent more viewing area than typical 13-inch laptops.
Additionally, rather than integrated Intel graphics as on the 13-inch MacBook Pro, the XPS 14z will come with a discrete graphics card option (specifically, the NVIDIA GeForce GT 520M with 1GB of graphics memory). Although it'll add more to the $999 starting price, the NVIDIA option may make the XPS 14z more attractive if you're a gamer.
Most of the other features are similar between the two thin-and-light competitors, though the XPS 14z edges out the MacBook Pro in thinness and weights by just a hair.
The XPS 14z isn't going after just the MacBook Pro, though. It also wants to claim the title of "thinnest 14-inch fully featured laptop." What the heck does Dell mean with their made-up title? By "fully featured," Dell is referring to dedicated graphics card option and the laptop's slot-loading internal optical drive. It may be a nonsensical claim, but having a rewritable DVD drive in an ultrathin laptop may be important to a few people; Ultrabooks are thinner and lighter but won't let you burn that odd disc.
Expect the XPS 14z on November 1st in the US and Canada and other territories starting November 15.
Follow Melanie Pinola (@melaniepinola) and Today@PCWorld on Twitter