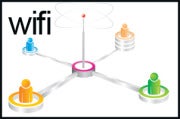 For a long time, Wi-Fi basically meant connecting laptops to the network. Now cellular phones, tablets, netbooks, printers, hard drives, and projectors are Wi-Fi enabled. This can drive demand to expand coverage or increase speeds on your network.
Wireless access points (APs) or wireless routers have evolved substantially in the last few years, bringing newer, higher-speed network protocols as well as improved security.
The basic wireless network standard is 802.11, with variations such as a, b, g, and n. Some vendors use multiple channels to allow for a multiplexed connection, theoretically enabling three channels simultaneously to triple the base speed. You'll see numbers quoted from 22Mbps all the way to 600Mbps or higher. In many cases, though, speed drops dramatically with signal strength, and better coverage can provide more user satisfaction than higher but intermittent speeds.
However, without security to determine who can connect to the access point or change its settings, anyone with a wireless device can connect to your network–or even possibly use your Internet connection to download questionable material or perpetrate attacks.
With many recent routers, it's possible to have different settings for different groups, such as a guest network that can only access the Internet, a separate group for internal users who can also reach your file servers and printers. Each group can have separate passwords and encryption, so you can allow a general access setup for guests, a different one for contractors with limited access, and another for staff.
Take the poll that applies to you for the chance to win a $25 Amazon gift certificate. You must enter your name and email address in the "Other" field of the poll in order to be eligible.
We will not use your contact information for marketing or any other purposes other than this drawing. Read more about theBusiness Center Tech Audit Research Survey official rules here.