Google has quietly removed the Boolean + operator from its search options–and replaced it with expanded quotation mark functionality. For those who don't use Boolean search operators, this isn't a big deal, but for us search ninjas it's a pretty big inconvenience.
The Boolean + operator, when placed in front of a specific search term, would guarantee that the search results returned contained that exact term. For example, if you searched for sarah jacobsson purewal +pcworld, the search results would definitely have "pcworld" in them. This is important because searching for sarah jacobsson purewal pcworld (without the + operator) will return some search results without "pcworld" in them.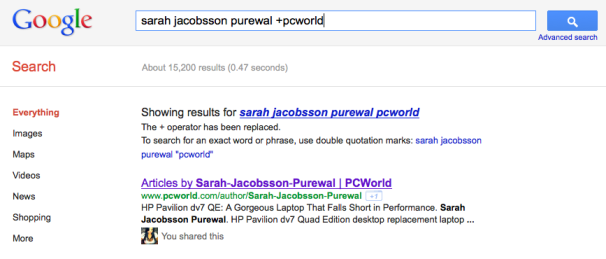 According to Google Search Community Manager Kelly F, Google has replaced the + operator with expanded quotation mark functionality. In other words, putting quotation marks around the specific search term will now return the same results as putting a + in front of the search term used to return. So, now you must search for sarah jacobsson purewal "pcworld" instead of sarah jacobsson purewal +pcworld.
Like the + operator, the quotes must be around a single word (the + operator had to be in front of a single word–not a phrase) to work properly. If you put quotation marks around a phrase, you'll still get search results with that specific phrase.
As Danny Sullivan from Search Engine Land notes, this is a pretty big disappointment for those of us who use Boolean operators in our searches.
"I can't believe Google has done this. I use the + command all the time, especially in an age when more and more, Google constantly reshapes a search based on what it guesses a searcher wants, rather than what they entered," Sullivan writes.
Boolean operators are as old as search engines themselves, and they're a quick, convenient way to find what you want from Google. Though the functionality is still there, quotation marks around each term are, obviously, slightly more of a hassle.
I'm not sure why Google has discarded the + operator, especially since it doesn't seem like it was really hurting anyone.
However, if I were to speculate, I might say it has something to do with a new functionality that Google wants for the + symbol. In fact, it may have something to do with Google's new social network, Google+.
After all, to tag people in Google+ posts you currently put the + symbol in front of their name. Perhaps Google is working on a way to incorporate the Google+ social network into its search system, and therefore needed to get rid of the + operator's previous functionality. If that's the case, I'm not sure I like where this is going…