Former Apple iPod and iPhone hardware development chief Tony Fadell wants to turn your home's thermostat into the next "must-have" gadget by imbuing it with an Apple-like design sensibility. The Nest Learning Thermostat, made by Nest Labs, is a touch-controlled thermostat designed to personalize your home energy needs and help save you as much as $173 per year on your energy bill, according to the company.
The Nest thermostat can learn your preferred temperatures and daily schedule, adjust the temperature automatically when no one is at home, help you learn how to save on energy costs and can be controlled remotely via the Web or your iPhone (Android app coming soon).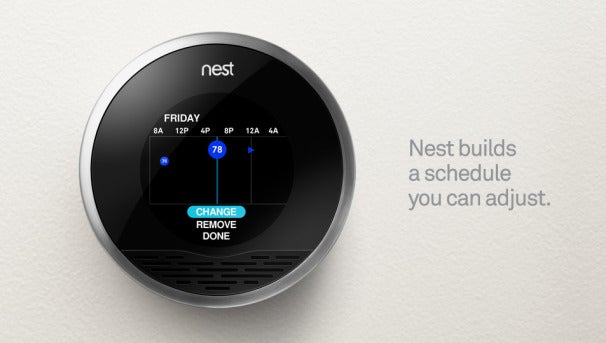 Nest features a 1.75-inch (diameter) display with 320-by-320 pixel resolution, built-in rechargeable lithium ion battery, 150-degree motion sensors to detect human presence, and 802.11 b/g/m Wi-Fi and ZigBee connectivity. Nest measure 3.2-inches wide, 1.44 inches deep and weighs 7 ounces.
Just like Apple products, Nest's sleek design and functionality comes at a premium cost of $250 compared to the price range of $50-$170 for the average home thermostat. Nest is available for pre-order now from Best Buy and Nest.com and will start shipping in November.
Self-programming
Nest can learn your home's temperature preferences in about a week, according to Nest Labs. In the winter and fall, for example, all you have to do is turn the thermostat up when you need to, turn it down at night or when you leave home and Nest will start figuring out your preferences and adjust itself accordingly. Nest also uses its Wi-Fi connection to find out what the current temperature is in your area to gain more data about how outdoor temperatures affect how you adjust the temperature inside. The thermostat's auto-away feature will also turn down the temperature after two hours without detecting a human presence.
Eventually, Nest figures out when people are likely to wake up, arrive home from work and other daily habits and can warm or cool the house in time for their arrival. You can also control Nest remotely using the Web or an app for iOS devices — Nest Labs says an Android app is coming soon. You can control all the Nest thermostats in your home from one account.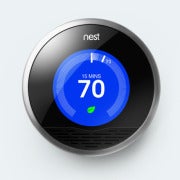 Nest also has a few nice design touches that are supposed to get you interested in your new thermostat. The device will light up when you approach it, but uses ambient light sensors so it doesn't blind you if you want to adjust the temperature in the middle of the night. Nest's display turns red when it's heating the house and blue when it's cooling it. The thermostat also rewards efficient energy use by displaying a green leaf to let you know you're on the right track. Nest can also receive automatic software updates via Wi-Fi, and for security Nest uses public key cryptography, SSL and 128-bit encryption.
Home energy snooze
While Nest sounds like an interesting product, consumers have yet to get excited about smart energy devices. Google in 2009 tried to get users with smart meters at home interested in tracking their energy usage through a Web service called PowerMeter that automatically obtained data from their home's smart meter. Google discontinued PowerMeter in September. Microsoft had a competing product called Hohm, also introduced in 2009, but announced in June it would discontinue Hohm by May 2012.
Smart meters aren't catching on with home consumers either, since many people don't see the value in using high tech equipment to keep their lights on, according to IDG News. But a recent experiment in Dubuque, Iowa, where residents were able to cut their electricity bills by 11 percent, may change some people's minds.
Home energy efficiency has yet to become a popular pastime in the United States, but thanks to its sleek industrial design and feature set, Nest may be the device to popularize a green revolution — if its price tag doesn't keep most users away. If you're interested in Nest, visit the company's site before you pre-order and use the online compatibility check to make sure you home's wiring is Nest-ready.
Connect with Ian Paul (@ianpaul ) and Today@PCWorld on Twitter for the latest tech news and analysis.