At a Glance
Expert's Rating
Pros
High-quality artwork
Spooky sounds
Cons
Windows 7 only
Limited usefulness–Halloween theme
Our Verdict
Celebrate Halloween with this whimsical Windows 7 theme–complete with Jack-o-lanterns, skeletons, and creepy sounds.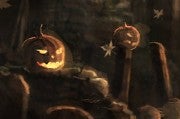 Does your home look like it's been attacked by giant spiders? Do you have ghosts in your windows and grinning pumpkins on your front porch? Then it must be close to Halloween–and you shouldn't leave your computer out of the fun. Load up the Happy Halloween Windows 7 theme and enjoy hand-crafted desktops featuring zombie Jack-o-lanterns, haunted wanderers, lovelorn skeletons, and more.
This desktop theme includes artworks by three members of the DeviantArt community: Chad Savage ("Autumn Harbinger," "Zombo-o-Lanterns"), Rado Javor ("Jack-o-Lantern," "Trick or Treat"), and Senyphine ("Skeleton in Love"). You'll come across several creepy sound effects from members of Freesound.org: Herbert Boland and inchadney (under Creative Commons 3.0); and Edwin P. Manchester, jih, and Nimbyc (also under a Creative Commons license).
Note: To install the Windows 7 theme, just unzip the archive file and double-click the themepack within. Windows does the rest. This desktop theme works under Windows 7 only. You can download Savage's Autumn Harbinger and Zombo-o-Lanterns wallpapers separately if you want to decorate your older version of Windows.
–Kim Saccio-Kent