At a Glance
Expert's Rating
Pros
Works on multiple social networks
Understands misspelled words
Our Verdict
SocialShield offers a pricey but complete way to keep children safe across multiple social networks.
SocialShield isn't cheap. At $10 per month or $96 per year, this Web-based social network monitoring service costs significantly more than some of its competitors. But it also delivers a lot more, too, especially if you're using it to safeguard children who use more than one social network.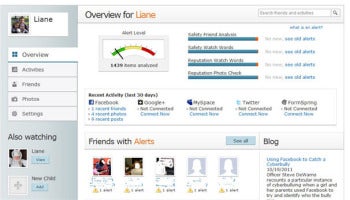 Like its free rival MinorMonitor, SocialShield is entirely Web-based: no software downloads required. Competitor ZoneAlarm SocialGuard ($20), meanwhile, is a local application that runs on Windows PC. The Web-based approach offers you the freedom of using it on any computer with a Web connection, which is a nice touch. What's even nicer is that SocialShield extends it protection past Facebook, which is where those two rivals stop. In addition to the world's most popular social network, SocialShield also monitors activity on Google+, MySpace, Twitter, and FormSpring.
SocialShield is not a secretive spying tool: it requires the login credentials of the users you are monitoring. Once it's connected to the social network accounts, SocialShield analyzes user activity, including private and public messages, friends, photo captions, and more, looking for potentially questionable activity that may either be dangerous or damage a child's reputation. This is done through a list of watch words and phrases, and SocialShield says its product is able to recognize slang and misspellings. Indeed, it did flag the use of the word "Drunnnnnnk!" in one of my photo captions.
But, like both SocialGuard and MinorMonitor, this product also flagged its fair share of false positives. Among them: the word "shots" when used in reference to photos and the word "cook," which SocialShield considers a possible misspelling of a popular term used to describe part of the male anatomy. I know this because SocialShield explains why it flags the terms it does: this is a nice touch, especially since I am still wondering why MinorMonitor felt the need to flag the word "chocolate" as a possible reference to drugs.
Like MinorMonitor, SocialShield's Web-based interface presents the information you need to know in a neatly-organized dashboard. What's nice about SocialShield's presentation is the importance it gives to information that may be worrisome. All of your alerts are front and center, and you can scroll through friends and photos with alerts. MinorMonitor, meanwhile, doesn't separate out a list of friends with alerts, which means you might have to search through a list of several hundred friends in order to identify those who might be dangerous.
Part of the SocialShield dashboard displays posts from the company's blog, which seems like a waste of space. I appreciate the info, but that space could be better used, and it feels like an advertisement for a product that already costs a fair amount. I'd rather see that space used for a feature like MinorMonitor's activity graph, which shows you how much time your kids are spending on Facebook, and when they're are doing so.
Overall, though, SocialShield is a fantastic way to keep tabs on your children's social habits. It provides a thorough look at their activities across multiple social networks.