When RIM released the BlackBerry PlayBook tablet in April, the tech sphere was overwhelmingly unimpressed. The lack of native email didn't help.
Now that RIM has dropped the tablet's price and announced a new OS for February that will fix the native email issue–at least to a point–the PlayBook can turn itself around as the tablet for companies that enjoy RIM's secure email and other IT management tools.
Here are four reasons why the PlayBook's next OS can give the device some much-needed CPR.
1. Native Email Is Coming
Granted, it isn't the native email everyone wants just yet. You have to use another PIN for your PlayBook and essentially run two email accounts if you've already got one for your BlackBerry smartphone. But it is coming.
Native email is important for a few reasons, the first that anyone with a RIM device is probably doing it for the secure push email that's funnelled through RIM's servers. This has been RIM's greatest strength (and a recent source of weakness when its servers went down). Any business that requires secure email–law or accounting firms, or any company in a hypercompetitive industry–is probably still using BlackBerry devices and will continue to do so unless another company builds a better mousetrap.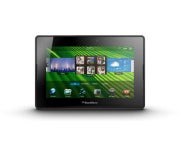 2. Interface Gets Cleaned Up
The new tablet OS will offer something similar to how an Android device operates now, letting you dock your most-used applications to the Home screen and create folders to group similar apps. There will also be a larger area for apps, with the carousel at the bottom of the screen taking up less room.
3. Enterprise Integration Allows Native Work Apps
CIOs will love the enterprise integration feature, which will allow companies to install apps on multiple devices at the same time. As explained in this video by a RIM employee, when the PlayBook is enrolled on an enterprise server, administrators can install apps in that workspace.
4. It's Getting Easier to Run Android Apps
RIM has been promising the capability to easily port Android apps to the PlayBook, and they're delivering that now. Developers have access to various tools, including the BlackBerry Packager for Android Apps, to test and repackage Android apps for the PlayBook. While this will still take time, it does mean that developers can release apps on the PlayBook without needing to recode for a different environment. But it doesn't mean that consumers will be able to run pure Android apps on the device; the applications will still need to be recoded and submitted to BlackBerry AppWorld.
If you're a developer looking to get your hands on these tools, look here.
While the PlayBook may never be the top consumer tablet of choice, RIM can still make it a player in the business space by doing what it does best: supporting businesses with enterprise app integration and secure email. If it can keep its secure server outages from happening, there's a very good chance that the PlayBook will find its way onto the desks of employees.
Angela West dreams of opening a Fallout-themed pub featuring wait staff with Pip-Boys. She's written for big insurance companies, small wildlife control businesses, gourmet food chains, and more. Follow her on Twitter at @angelawest.