You don't need a fancy wireless network camera or a spare Android/iOS gadget to set up your own home monitoring system. Here's how to use a USB-connected or built-in PC webcam to watch your home or office space when you're not around. Don't have a webcam? Check out our Top Webcams Chart.
Step 1: Download and install Yawcam
We're going to use Yawcam, a free Java webcam app. Yawcam lets you use any of the cameras attached to your PC to capture a live feed and then publish the live video from your Web-connected PC. First, download the Yawcam installer and click through the wizard to install it. Once Yawcam is finished installing, make sure the webcam(s) you want to use are plugged in and have drivers installed. When everything is hooked up properly, launch Yawcam.
Step 2: Configure your webcam in Yawcam
When you open Yawcam for the first time, you won't have any active video feeds. You can add your camera by clicking the Settings menu and choosing Device. If your webcam is built into your PC–as is the case with those found on most laptops and all-in-one desktops–select the Integrated Camera option. If you're using a USB-connected external webcam, select Change to and choose your USB camera out of the lineup. If your camera doesn't show up, try choosing Detect webcam--if Yawcam finds your camera, it will add it to the list.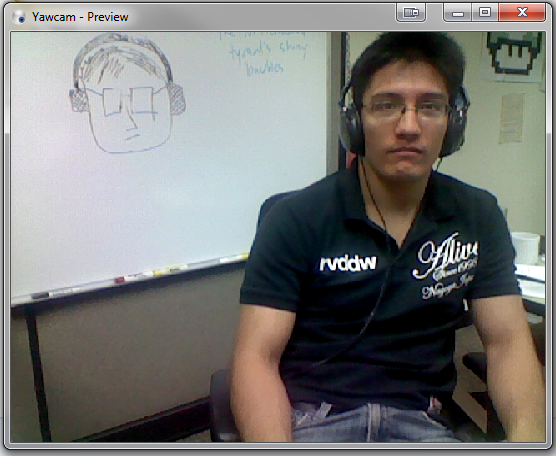 If Yawcam detects your camera, it should open a new Preview window with your camera's video feed. Once everything is working and in the proper position, we're ready to start configuring the motion-detection feature.
Step 3: Turn on motion detection
From the main Yawcam window, click on the Window menu and select Motion Detection. This window shows you a preview of the motion your camera is detecting. You can fine-tune the motion-detection features in the Settings menu, where you can confine the motion detection to a certain area of the camera image, tweak the sensitivity level, and more. Feel free to play around with the settings a bit, then click the Enable button on the left-hand side of the window. Now motion detection is running, but it's not streaming the camera feed anywhere.
Step 4: Set up Yawcam's email function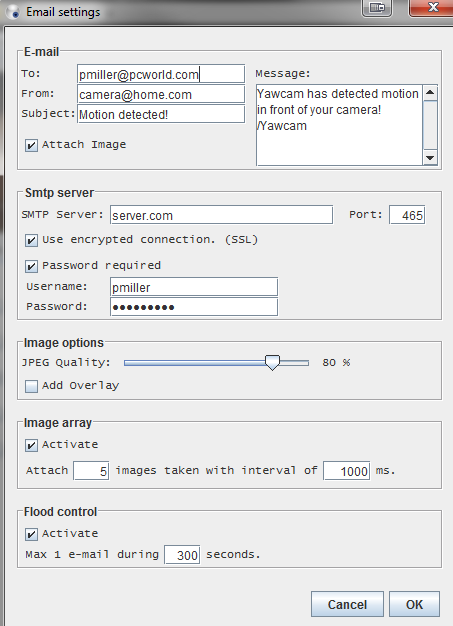 Having a motion-detector webcam is handy, but you need some way of monitoring the feed when you're not at your desk, so we're going to configure Yawcam to email you snapshots whenever the motion detector is triggered. From the Motion Detection window, click the Actions tab and check Send E-Mail; then click the Settings menu button. Here you'll need some information from your email provider–specifically, the SMTP (Simple Mail Transfer Protocol) settings. If you're a Gmail user, you can find Google's SMTP settings by following these instructions. Otherwise, you'll have to consult your email provider or ISP for the SMTP settings.
Next, check Attach image at the top of Yawcam's Email Settings menu, specify the email address you want Yawcam to send it to, and tweak the flood control settings to make sure you aren't completely inundated with camera spam–in our case, we left it on the default settings, which caps the camera's output at one email every five minutes, though you may want to boost it up to ten minutes (600 seconds). Click OK, and you should be all set.
Step 5: Other important steps for making sure Yawcam works correctly
Whenever Yawcam is open, your camera will be watching out for your home like a hawk. However, to ensure that you're actually getting your surveillance play-by-play delivered to you, you'll need to make sure your PC doesn't enter sleep or stand-by mode while you're away. Go to Control Panel, Power Options, Change When the Computer Sleeps to make sure your PC is still powering your webcam. It's also a good idea to turn off the display (but not the computer) so that any sneaky targets aren't aware of your monitoring activities.