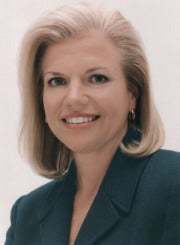 IBM has elected Virginia Rometty as president and chief executive officer effective Jan. 1, replacing Sam Palmisano, who will retain the chairman's role.
Rometty most recently has been IBM senior vice president and group executive for sales, marketing and strategy.
"Ginni Rometty has successfully led several of IBM's most important businesses over the past decade — from the formation of IBM Global Business Services to the build-out of our Growth Markets Unit," Palmisano said in a statement. "With every leadership role, she has strengthened our ability to integrate IBM's capabilities for our clients."
Under Palmisano, who became CEO in 2002 and chairman of the board in 2003, IBM sold its PC business to Lenovo, sharpened its focus on services and expanded into emerging markets including China, India, Brazil and Russia.
IBM, with its broad portfolio of corporate-focused products, is a major barometer of enterprise IT.
IBM last week announced increases in sales and profit for the quarter ending in September, though revenue fell slightly short of analyst expectations. IBM quarterly profit rose year over year by 7 percent to US$3.8 billion, while sales were up 8 percent to $26.16 billion. Bright spots included software revenue, up by 13 percent to $5.8 billion; Power Systems revenue, up by 15 percent; and cloud-oriented technology sales, which doubled from last year.
"Sam had the courage to transform the company based on his belief that computing technology, our industry, even world economies would shift in historic ways," Rometty said in a statement. "Today, IBM's strategies and business model are correct. Our ability to execute and deliver consistent results for clients and shareholders is strong."
Despite concerns over sales, IBM last week displayed confidence in its ability to navigate a tough economic climate, raising earnings expectations for fiscal 2011 to at least $13.35 per share from $13.25.