Tablets rocking Android increased shipment volume by 27 percent in the third quarter over the same period last year, according to a report last week by Strategy Analytics. However, while Android's market share jumped considerably, Apple smoked Android on sheer numbers of tablets sold.
Android's jump in shipments merits attention, but let's look at why Apple is still the clear choice for business.
1. The 'Cool Factor'
If your business is in constant contact with the public, you can only raise your brand's cachet by using iPads. The company has carefully cultivated this "cool factor" for decades, taking the top position as the world's most valuable brand in one well-known ranking this year. There's also the question of brand identification; Apple fans will like that you're using their favorite, while PC adherents won't exactly mind if you whip out an iPad. It's bound to impress clients when front-line staff use an iPad to take orders, help customers, or show clients plans and projects. Android tablets just don't have the same magic touch.
2. Young Android Tablets and Marketplace
While the iPad has been around for a while, Android tablets with a comparative screen size just entered the market at the end of 2010. Most Android Marketplace apps weren't purpose-built for tablets, whereas the iPad commands a much higher range of tablet-ready apps from the App Store. Basically, Android apps remain as iPad apps were during the first year of its release, when so many only took up a fraction of the screen because they were built for iPhones. These Android apps can use a "zoom" feature to appear larger on a tablet, but they look pixelated.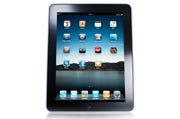 One place where this isn't the case is with the new range of Adobe apps, including Photoshop Touch, which are being released for Android first, then for iOS. Since most design professionals are firm Apple addicts, though, the delay isn't likely to make them run out and buy an Android tablet.
3. Android Developer Lag
Building an Android app isn't just a matter of translating one written for an Apple device to Android. Apps need to be recoded from the ground up. This means that businesses that have an iPad-ready app have to re-hire a developer to recode for Android. That takes time and a budget that most businesses don't have.
4. Minor Price Difference
Android tablets that are comparable to the iPad in features tend to be about the same price. While this may change when Amazon releases the Kindle Fire at $200, the Fire won't be able to compete on features. It also offers a smaller screen size, which professionals may not wish to sacrifice.
5. Cleaner User Interface
The Android vs. Apple argument is very much the same as the Windows vs. Apple argument. Nobody has managed yet to corner the clean user experience that Apple has offered with any of its devices. The Android interface can get cluttered quickly with apps, which are much less easy to organize than on an iPad. You can create pages and folders in Android, but moving applications and organizing large numbers of them is less easy. Android tablets such as the Samsung Galaxy Tab are approaching the look and feel of Apple's hardware, which is likely why Apple is suing Samsung into the next century. A cleaner user interface means greater efficiency for work; if you can't find something on an iPad, you probably aren't really looking for it.
6. Better Productivity Apps
I've been a PC user for most of my life, but the app that may change that is Omnifocus, the ultimate task manager. However, you can't get it for Android, Windows, or anything else but a Mac and iOS. Penultimate for iPad is another awesome productivity app not on Android. This handwriting tool lets you use the iPad as a notepad and includes photo annotation, so you'll never need to bring along a paper notebook.
Word processing and other office-oriented apps can make the iPad an acceptable replacement for a laptop. While you'll want to buy a keyboard to use it to replace a laptop, iPad-only apps like Office 2 HD let you edit Microsoft Word documents and Excel spreadsheets with full Google Docs and Dropbox functionality. Apple's own iWork suite is also Microsoft Office compatible. The only comparable application on Android is Documents To Go, which is a nice suite but built more to fit on various smartphones and tablets than to offer a great tablet user experience. The SG Product Pro project management app still lacks a decent Android counterpart. It lets you line up projects, people, tasks, and share information with a team via Dropbox.
IT professionals are probably already using Citrix's GoToManage app for the iPad to provide real-time remote support to clients. The company has plans to port it to Android, but can't give an exact timeline.
The lack of outstanding business apps on Android may be rectified in 2012 as Android tablets gain market share, and companies like Citrix are trying to catch up by getting their apps recoded for Android. But right now, the iPad offers the best productivity apps.
While Android devices may grab more market share away from the iPad on the strength of lower prices, the iPad remains both the trendier and more efficient choice for smaller businesses, particularly if you interact regularly with customers. In the end, the deciding factor is that anyone can pick up an iPad and use it right away. Until Android tablets can offer the same usability and quality of productivity apps, businesses will keep using iPads.
Angela West dreams of opening a Fallout-themed pub featuring wait staff with Pip-Boys. She's written for big insurance companies, small wildlife control businesses, gourmet food chains, and more. Follow her on Twitter at @angelawest.
Motorola XOOM Family Edition MZ505 Tablet Computer