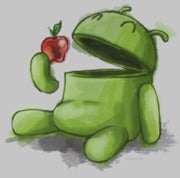 It's not uncommon to have iOS and Android users living under the same roof. Indeed, perhaps you've been an iPod owner for many users, but recently decided to pick up an Android-powered smartphone or tablet. Now the question becomes, how do you sync your iTunes music and playlists with your Android device?
You can, of course, side-load music from your desktop to your device, meaning copying it over manually. But that's not nearly as easy or convenient as true synchronization. It is, in a word, a hassle.
Enter iSyncr, which combines a Windows utility and an Android app to keep your phone/tablet in sync with iTunes. It's dirt cheap, and it works like a charm. There's even an optional Wi-Fi add-on for syncing your music wirelessly.
To get started, you simply buy the app from Android Market for a whopping $3. When you first run it, it will install a small Windows utility on your device and/or storage card. (If you're going to be bringing over a lot of music, a storage card is definitely your best bet.) Then you just connect your device to your PC, enable USB storage, and run the iSyncr utility.
From there it's a simple matter of choosing the playlists you want to sync. When the copy process is done, "safely remove" your phone/tablet, then fire up the music app. Presto! Your iTunes favorites have magically appeared. The app also supports syncing in the other direction, meaning songs purchased and playlists created on your device can be synced back to your PC.
This gets even better if you use the free iSyncr Wi-Fi Add-On, a desktop server program for Windows that enables synchronization without the USB cable.
Send and Receive Text Messages on Your PC
Text messaging is great–except when it isn't. For one thing, it's expensive (unless you have an unlimited messaging plan, which itself can be expensive). Plus, it forces you to type on your phone's tiny keyboard–not always the fastest or most convenient method.
Indeed, when you're sitting at your desk and want to text, say, your spouse, do you really have to pull out your phone, navigate to the messaging app, then mangle those cramped keys?
Actually, you don't. Pinger Textfree Web brings free and easy text messaging to your browser. Using a large, attractive interface, you can compose a message to any mobile number and view the replies. It's not unlike using an instant-messaging service like Meebo.
Registering for a Textfree Web account is free, and it includes a textfree.us e-mail address. (If you're an Android or iOS user, you might be familiar with the eponymous apps, which are great for messaging without paying your carrier for the privilege.)
In my tests, messages sent from Textfree Web arrived almost instantly, the replies came just as quickly. And trust me: it's so much nicer composing texts with a full-size keyboard. Cheaper, too. The service even lets you attach images to your messages, effectively recreating MMS. (If someone wants to send you back an image, it needs to go to your Textfree e-mail address.)
If there's one downside, it's that you can't import contacts, so you'll have to enter phone numbers manually–at least the first time. Textfree Web keeps a (brief) log of recently sent and received messages, so it's easy to resume a conversation with people you've texted in the last 72 hours.
This is a great service. It lets you keep your phone in your pocket and text to your heart's content, all at no charge.
Extend the Loan Period of a Borrowed E-Book
If you subscribe to the belief that rules are made to be broken, read on. No, literally, read on. I'm talking about e-books, which you can borrow from friends and family members to read on your Barnes & Noble Nook or Amazon Kindle–but only for two weeks. If that's not enough time to finish your e-copy of, say, "The Help," you're pretty much out of luck; you'll have to see if you can borrow it again from someone else (any purchased e-book can be loaned only once) or buy it outright.
Or maybe not. I've discovered a way to keep a borrowed e-book indefinitely–or at least until you finish reading it.
The back story: I was halfway through Jonathan Franzen's Freedom when my e-book loan (by way of eBookFling) reached the two-week mark. I'd received e-mail notification that this was imminent, so I knew exactly when time was about to be up.
I'd been using the Kindle app to read the book on both my iPhone and my Nook Color (which I'd converted to an Android tablet in part so I could use it for Amazon e-books). The expiration date for "Freedom" arrived, and sure enough, when I returned to it on my iPhone, the book was expired and inaccessible.
Then I got to wondering: are the books "hardwired" to expire after two weeks, or is it only through communication with Amazon's Whispernet sync service that they're directed to time out? Turns out it's the latter, because I then disabled Wi-Fi on my Nook, loaded the Amazon app, and discovered that "Freedom" was still there, still readable. Because I'd cut off the app's ability to communicate with Whispernet, Whispernet couldn't tell the app that the book's loan period had expired. I'm now about five days past that period.
There are a few downsides to this approach. The big one is that I have to remember to turn off Wi-Fi every time I run the Amazon app–or just leave it off altogether, which limits my Nook's capabilities. Also, it prohibits me from downloading any new books, at least until I'm done with the current one, because the moment the app gets a chance to sync, it's game over for my expired loan.
I'm not sure if this same loophole will work with Nook downloads or e-books checked out from the library, though I suspect that both rely on the same kind of server synchronization to enforce expiration dates. I'll update the post when I find out for sure; in the meantime, if you've tried this firsthand, hit the comments and let me know if I'm right.
Also, let me caveat this by saying I love being able to borrow e-books, but think two weeks isn't enough time. Heck, a brick-and-mortar library typically gives you three weeks, and lets you renew books if you want to keep them longer. Why should e-books be any different?
If you've got a hassle that needs solving, send it my way. I can't promise a response, but I'll definitely read every e-mail I get–and do my best to address at least some of them in the PCWorld Hassle-Free PC blog. My 411: hasslefree@pcworld.com. You can also sign up to have the Hassle-Free PC newsletter e-mailed to you each week.