For the first time ever, tablet shipments have surpassed netbook shipments–finally sounding the death knell for netbooks.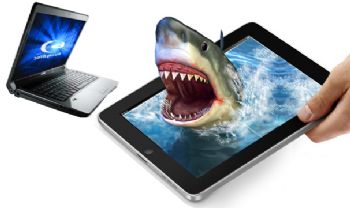 Market research firm ABI Research reports that Q2 2011 global tablet shipments rose to 13.6 million units, compared to just 7.3 million netbooks.
Netbooks declined 13 percent from their first quarter shipment of 8.4 million netbooks, but, more importantly, tablet shipments really boomed: In the first quarter of this year, just 6.4 million tablets shipped—making the second quarter shipments a 112.5 percent increase.
I don't think this is a surprise to anyone; if anything, netbooks seem to have had a longer-than-expected run.
Today we have devices that are more portable and powerful compared your typically under-powered netbook–and nearly as affordable (especially given this year's tablet price wars). Smartphones are pocketable and capable of doing the quick emailing and web searching that netbooks are usually reserved for, tablets offer a more pleasant multimedia experience and access to a gazillion apps, and prices for more powerful laptops have been dropping steadily (see the $399 HP DM1, for example).
Hybrid devices such as the Asus Eee Pad Transformer, which has the functionality of a netbook with the keyboard docking station and the portability of a tablet, straddle the best of both worlds.
ABI notes that there's still demand for netbooks in underserved countries, but the rise of the tablet and fall of the netbook is a trend they do not expect will reverse. My money's not on netbooks either.
Follow Melanie Pinola (@melaniepinola) and Today@PCWorld on Twitter