Sony took a page out of the playbooks of Microsoft and Apple, announcing it would buy out its smartphone partner, Ericsson, to more tightly integrate smartphones with Sony's laptops, tablets and televisions. The move gives Sony complete control over its smartphone business, while Ericsson will now focus more broadly on wireless connectivity for products beyond mobile handsets. Sony purchased Ericsson's share of the Sony Ericsson partnership for about $1.47 billion. Rumors about Sony's takeover of Sony Ericsson surfaced in early October.
'Four-screens strategy'
It appears Sony wants to tightly integrate its products to share content the way Apple does, but will also adapt Microsoft's long-promoted "three-screens strategy" of integrating PCs, handsets, TV and the cloud. Sony's "four-screens strategy," which the company has been talking about since at least early August, is a plan to offer smartphones, laptops, tablets and TVs that "seamlessly connect with one another." The four-screens strategy also includes integration with the PlayStation 3 and the Sony Entertainment Network, formerly Qriocity, for movie and music streaming.
Apple also weaves its products together such as the Mac (and to a certain extent the Windows PC), iPad and iPhone into one seamless experience. This includes easily syncing and downloading content from the iTunes Store, and also the new iCloud service for syncing content such as documents, photos, music and — for iOS devices — apps.
But Sony intends to be a little more open than Apple and won't be adverse to extending its content-sharing to non-Sony devices. It's not clear whether Sony's integration will go beyond integrating movie and music content between devices or if the plan will also include some kind of cloud service for documents and other user-generated content.
Define tablets
Sony makes more than just Android tablets such as the Tablet S; it also has popular products including the Sony Reader line for e-books, two models of the PlayStation Portable, and the upcoming successor to the PSP, PlayStation Vita. It's not clear whether these products will fall under "tablets" for the four-screens strategy, but that's probably a safe bet since the Sony Reader and PSP already share some content integration with other devices.
Goodbye feature phones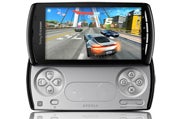 Sony is giving up on feature phones to focus solely on smartphones for its new strategy. The company is going full force into Android-based smartphones such as the Xperia Pro and Xperia Neo. It will also be interesting to see whether Sony plans on making more PlayStation-focused phones such as the Xperia Play 4G as well as how Sony might further leverage the Walkman brand into its new phones.
Although the four-screens strategy sounds promising, it's not clear how successful Sony will be. The company has had disparate product lines that for some time have had limited integration. But since Sony has limited control over the operating systems for its laptops (Windows) and smartphones (Android) the company is, to a certain extent, restricted in what it can do by including software add-ons to its devices.
Nevertheless, Sony is at least taking a decisive step with the buyout, and it will be interesting to see whether Sony's strategy will result in anything for users to get excited about in the coming months.
Connect with Ian Paul (@ianpaul) and Today@PCWorldon Twitter for the latest tech news and analysis.