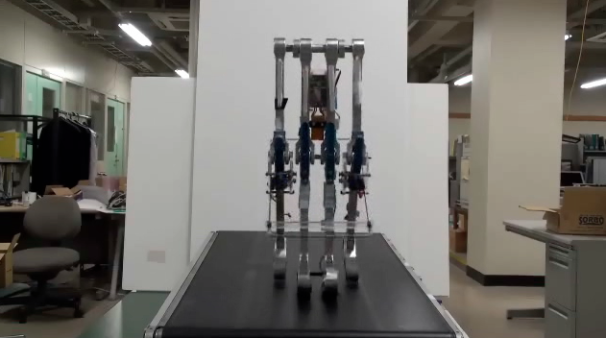 Researchers have spent years trying to build a bipedal robot that can walk more like us humans, including somewhat successful attempts with Honda's ASIMO or Boston Dynamics' auto-balancing Petman. But Sano Lab researchers from the Nagoya Institute of Technology in Japan have developed a truly natural looking bipedal walker that can travel long distances and is propelled by its own weight.
The mechanical walker (pictured above) is Sano Lab's Prototype 3, which took 100,000 unassisted steps–equivalent to walking 15 kilometers–over the course of 13 hours. The machine can do this because its thighs, calves, and feet were all machined out of aluminum to match weight and length of a human's.
Unlike the walkers we have seen before (no, not those Walkers), Sano Lab's do not use sensors, computers, or actuators, so the mechanical process is completely passive. All the walker needs is a little push or a downward slope to start it–inertia carries it the rest of the way.
The Sano Lab researchers have also developed another walker called the BlueBiped that works on a "principle of falling"–imagine the way you feel like you are being propelled down a hill. The BlueBiped is capable of carrying a 10-kilogram (2.2-pound) payload at a brisk 3.3 kilometers per hour (2mph). A DigInfo video shows that the BlueBiped can be worn on a person like an exoskeleton to help a person walk and the researchers say "sports equipment" could be the future for this technology.
[Sano Lab, Nagoya Institute of Technology [translated] via Extreme Tech and DigInfo]
Like this? You might also enjoy…
Get your GeekTech on: Twitter – Facebook – RSS | Tip us off