Smartphones these days are basically minicomputers–so why are we still paying for minutes? Here are three different smartphone apps for Android and iOS devices that will let you make free voice and video calls, and send free text messages.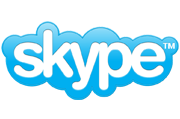 First, we'll walk you through the process of setting up Skype, the quintessential Internet calling service, which lets you not only make free voice (and, in some cases, video) calls to other Skype users. Skype uses your phone's Wi-Fi or mobile broadband connection to place domestic and international calls to regular phone numbers on the cheap. Sure, you still have to pay for the minutes on Skype's service, but for pennies a minute, it may be worthwhile–especially if you make a lot of international calls.
If Skype doesn't cut it for you, we'll show you how to use Google Voice, which streamlines the entire calling experience–and lets you place cheap international calls (though it will cost you domestic minutes on your wireless plan, as well as a per-minute rate from Google). Google Voice also lets you call people (not for free) using your Google Voice number, have your voicemail transcribed for your reading pleasure, and send and receive free text messages.
We'll also show you how to use Tango to place free voice and video calls to other Tango users. Tango does require users to have smartphones with Tango installed, but it's more widely compatible than Skype–it supports video chat on numerous devices, both Android and iOS, even if your phone has no forward-facing camera (Skype supports video chat only on iOS, and then only on iPhone 3GS and up).
What are you waiting for? Use these apps to slim down your wireless bill! Just click on any of the how-tos on the right-hand side of the page to get started.