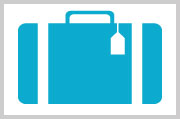 Travel can be expensive, and travel planning can be time-consuming. But these five websites can cut down on how much you spend and help you make your time away from home perfect, right down to the view outside your hotel window.
Google Flight Search
If you have exact dates planned for a trip, Google's airfare finder is a great first resource. One feature that sets Google Flight Search apart from other flight aggregators is that it lets you select multiple airports in an area, which can be particularly helpful if you have a flexible schedule. For example, if you're flying into San Francisco, most flight aggregators will let you search for "all airports in the San Francisco area." But this setting would include only SFO, Oakland, and maybe San Jose. With Google Flight Search, you can see whether cheaper flights pass through Monterey or Sacramento, only a 2-hour drive away.
Once you've specified the terms of your trip (you can limit search returns by price as well), Google Flight Search instantaneously offers the lowest prices it can find, and it gives you a link to the airline's website to book tickets. One disadvantage of using this site, however, is that its flight returns are totally automated, so if an airline sends out an email-only deal, you won't see that superlow fare.
Airfarewatchdog
The big advantage that this site has over other airfare-finding sites is that it employs real people to find the lowest prices for airline tickets. This approach really pays off with airlines such as Southwest: Since that airline doesn't allow its fares to be read by automated flight-price aggregators (such as Google Flight Search), the people employed by Airfarewatchdog manually enter the flight data they find on Southwest's site and post the cheapest ones for their readers.
Airfarewatchdog doesn't post the ticket prices for flights that are too expensive, or even regularly priced. Instead, you'll find ticket prices only for flights that the staff considers good deals. As a result, one day you may not see any flights from SFO to JFK, for instance, and the next day you might see three or four. Finally, Airfarewatchdog is a great resource if you want to travel but you don't know where. When you select your closest airport, the site will give you a list of the cheapest flights leaving over the next few months–for destinations ranging from Bangkok to Birmingham.
Room 77
If you're a picky person when it comes to where you sleep, or if you're planning a trip that needs to be just right, Room 77 is a great resource. It lets you preview rooms in select hotels in 32 cities. Although you can't actually see inside the room via the site, you can see the view from the room's window, so you can avoid having to stare at the neighboring coal refinery and make sure you get a nice view of the sunset over the river instead. You can even book rooms from the site based on what floor you'd like to be on, how important the view is, and how distant the room is from the elevator.
Gadling
This travel blog has been around for a while, but lately the daily posts have been more interesting than ever. You can find links to documentaries and travel essays that will thrill even armchair travelers. Gadling also has sections for budget travel and travel tech that can help out with planning for upcoming vacations. The site frequently posts guides to getting around specific cities, and a quick search on the site can give you ideas on how to spend an extra unplanned day on your itinerary. In addition, Gadling posts updates on travel destinations that might be undergoing some turmoil at the time (nevertheless, you should always check the U.S. Department of State's travel guide if you think you might end up in a questionable country).
Airbnb
Airbnb attracted a lot of attention in 2011, not least because Ashton Kutcher fronted a chunk of the money to get the startup off the ground. The concept is simple: Travelers can rent spare rooms in the homes of locals, or even empty vacation houses, thereby saving money on hotel fees and getting a little taste of the culture in destinations as diverse as Istanbul, Rio, or New York. After the stay, the host and the guest can review each other, so future hosts and guests know what they'll find when they meet. Airbnb also offers a separate search engine for monthly stays, so you can really get to know an area. Travelers have the option of paying through PayPal, so they don't have to worry about giving credit card numbers to a complete stranger. It's free for both hosts and travelers to sign up with Airbnb.
A quick heads-up, though: Over the summer, allegations of a few Airbnb travelers trashing a woman's home bubbled up, and the company now includes an insurance policy for $50,000 against problem renters. As always, proceed with caution when hosting or renting from other people.