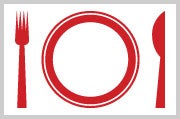 Food is more than just a necessary component of life: It's a way to bring people together, to share something in common. And using the Web to locate the best eats around is simple, if you know where to look. We asked Nicholas Dekker to tell us which sites he uses first when he's looking for a place to grab a bite. Dekker blogs about breakfast in Columbus, Ohio, and is the author of the book Breakfast With Nick: Columbus.
Everyone knows that you can use UrbanSpoon or Yelp to search out the newest café or the closest coffee shop, or dig through AllRecipes to find the best recipe for pumpkin pecan pancakes. For a change of pace, however, set your bookmarks to the following food sites, which focus on the local and the personal.
Foodbuzz
Foodbuzz draws on the power of food blogs to generate great eating recommendations. Food bloggers create profiles that include links to their posts at their own sites. Foodbuzz editors then feature daily picks, recipes, and kitchen decor tips. Like LocalEats, Foodbuzz allows visitors to browse active food writers in a given city, easily. Visitors rate food blogs and recipes by clicking the animated "Buzz" button; going through the "Buzz" section, you can easily find the most talked-about recipes, stories, and people. The beauty of Foodbuzz's Recipes section is that the dishes come from die-hard foodies, so the cuisine is creative and beautifully photographed. Recent examples include Poached Eggs Over Salmon and Spinach, Breakfast Chalupas, and a Spring Green Panzanella.
LocalEats
At LocalEats you can draw on local expertise to aid your quest for good eats around the country. Visitors can look up major metropolitan areas to find restaurant listings, where the profiles use text from the restaurants' websites and include links and driving directions. The Foodie Blogs section organizes food sites by city; readers can find a listing of registered food blogs from that location, complete with Web addresses and links to the latest posts. The city searches also feature the dining sections of local media and sites such as those from newspapers and magazines, so no matter where you are in the country, you're always in the know.
Roadfood
Roadfood is established, but not as well known as other food travel websites. Its purpose is to help travelers discover small eateries off the beaten path around the country. Consider it your personal opportunity to tag along on an episode of Diners, Drive-Ins, and Dives. Restaurants and recipes are submitted by visitors to the site. (How else are they going to find these little roadside diners and food stands?) You can search the Roadfood directory by state, and even narrow down results by type of restaurant or food.
The Eating Tours section suggests self-guided tours of different cities: For instance, you can stroll through the Portland, Oregon, Coffee An' tour (featuring coffee, donuts, and cupcakes), or make your way through Chesapeake Bay Crab Cakes. A paid subscription to Roadfood gives you access to downloadable reviews, mobile content, and even GPS help in searching out restaurants.
Professional Chefs' Websites
People might know Cleveland-based Michael Ruhlman from his books and his appearances with Anthony Bourdain in No Reservations, but not as many know about his blog. A master at engaging his readers over Twitter and Facebook, Ruhlman shares recipes as diverse as bread, cookies, pork belly, potato chips, succotash, and roasted cauliflower. His site is also a vast resource connecting to other food blogs, recipe sites, and even politically active food groups such as Slow Food USA. Likewise, David Lebovitz's website shows off his culinary skills and international travels. An award-winning pastry chef and author, Lebovitz writes about his journeys abroad (especially focused in Paris); he also includes cookbook reviews, celebrity-chef interviews, and professional food tours.
Specific Food Searches
With the advent of better and smaller digital cameras and smartphones, it's easier than ever for foodies to photograph and post reports about their favorite meals. Despite the efforts of sites such as Foodbuzz and LocalEats, local and regional food bloggers don't always get their due. Try using specific search terms for the meal you're after: sushi, breakfast, taco trucks, vegetarian, Ethiopian. Scan through a few blog posts and the site's About page to get sense of the writer's experience. I get a lot of traffic on my site, BreakfastWithNick.com, simply from travelers searching for breakfast in Columbus, Ohio. Likewise, Paul Gerald of BreakfastinBridgetown.com offers the definitive guide to the morning meal in Portland, Oregon.
Most food bloggers will brag about their other writing, too, and that's a key to gauging their experience. I'm in the final stages of publishing my book Breakfast With Nick: Columbus (due November 5). Gerald, too, penned a guidebook to breakfast in Portland. Likewise, Tom Noe of Exploring Food My Way documents restaurants around Akron, Ohio, and has since started writing for local magazines.