Twitch.tv, the games-oriented spinoff division of live-streaming site Justin.tv, launched a new iPhone app yesterday that lets you view live video feeds of pro gamers (and noobs) playing Starcraft 2, Halo: Reach, Super Street Fighter IV, and more.
The app is currently free in the App Store, with no immediate plans to charge for it (unlike the Justin.tv app, which has fluctuated from $15 to $5 for the last year or so). Since Twitch.tv is currently the main platform for pro gamers and gaming competitions to stream practice sessions, tournaments, and gaming-related talk shows, this is good news for gamers looking to copy top strategies and stay on top of the latest news and tournament results.
The Twitch.tv app lets you browse feeds by game, participate in chat, and stream video at varying levels of quality depending on your Internet connection. I tried watching some Starcraft 2 streams while in transit on my iPad's 3G connection, and it looked fine, although not nearly as good as it does over a Wi-Fi connection, of course.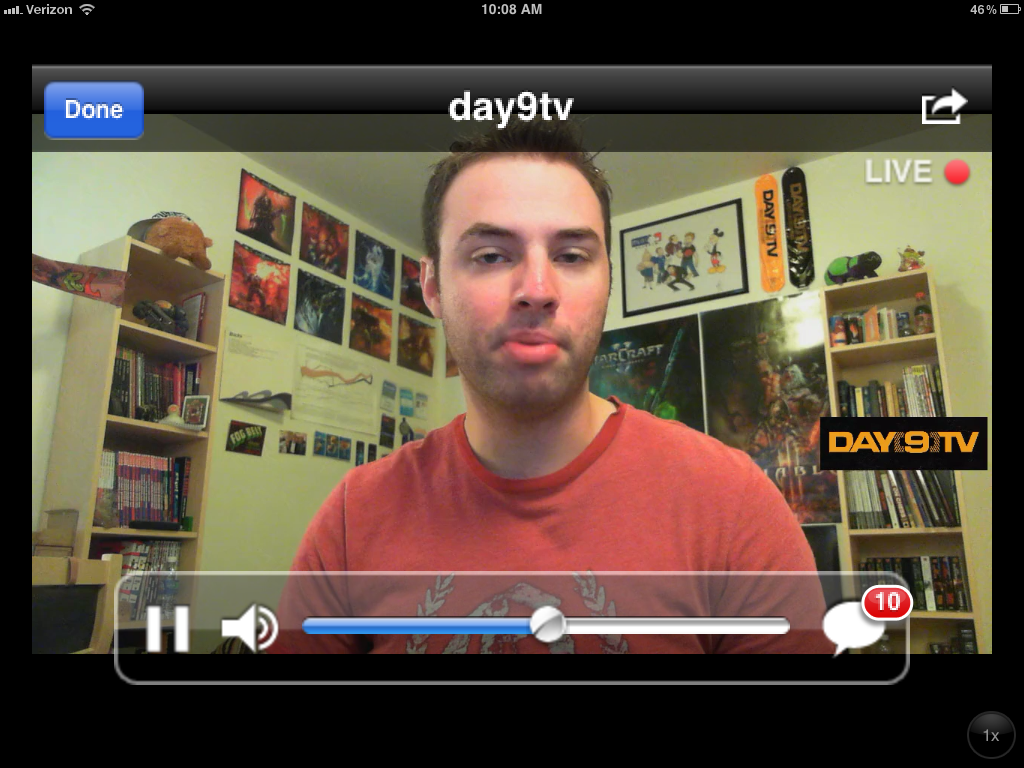 The Twitch.tv app is compatible with the iPad but is not optimized for the iPad's resolution or layout. This isn't a problem when it comes to the quality of the actual video feed, which can get up to HD if your Internet connection can handle it, but it does make the UI elements look pixelated and fuzzy because you need to use the app in upscaled mode to fill the iPad screen.
Also, since the app isn't optimized to make use of an iPad's extra screen space, the chat function is shown as a transparent overlay over the video feed. This works OK, but it means that channels with busy chat rooms can be harder to watch, and you'll most likely just turn it off anyway. On the other hand, advertisements are disabled (for now), so early adopters will get to watch their favorite streams ad-free.
So far, the Twitch.tv app is a solid basic app for watching gaming streams, and the quality and selection simply blow most of the other live-streaming apps out of the water when it comes to game-specific channels. However, it's still missing a few key features, like support for watching video-on-demand archives, a tablet-friendly interface, and an Android version.
Interact with Game On: Twitter – Facebook – Get in touch, and sign up to have the Game On newsletter e-mailed to you each week.