Hewlett-Packard's reversal of its plan to drop its consumer division means we'll soon see new HP tablets and ultrabooks, and WebOS may find a home on additional devices, HP executives suggested in a late Thursday briefing after announcing earlier in the day that it will keep its PC division.

HP announced on August 18 that it was shutting down its WebOS division and might also dump its Personal Systems Group responsible for creating HP PCs by either selling the division or spinning it off as its own company.
But this week,
newly-minted CEO Meg Whitman
said the PC division would stay, after an exhaustive review. "HP is committed to PSG, and together we are stronger," Whitman said in a press statement. Later, in a conference call with analysts, Whitman, PSG chief Todd Bradley, and company CFO Cathie Lesjak reaffirmed HP's commitment to making PCs.
HP is the largest computer manufacturer in the world producing two PCs every second in its factories and shipping more than 60 million PCs every year.
So what does the future have in store for HP's various device categories including tablets, laptops and mobile devices? Here's what company executives had to say.
Tablets on Target
HP says it will continue to produce the current Windows 7 tablet the company makes for enterprise customers, and will also develop a tablet running Windows 8. "We are certainly going to be there with Windows 8," Whitman said.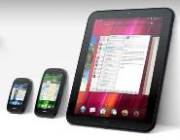 Earlier this month, rumors of an HP Windows 8 tablet surfaced when Taiwan-based DigiTimes reported that HP planned to produce a Windows 8 tablet PC in 2012. Then, on Monday, Fox News reported that it had heard from sources within HP that the company was busy testing Windows 8 on HP TouchPad hardware.
During Thursday's call, Bradley interjected that HP's work with Microsoft in the tablet space is "extraordinarily compelling." That, of course, is what you'd expect the head of PSG to say; nevertheless, it indicates HP wants to be a major player in the tablet space.
WebOS Future Murky
Windows 8 tablets are in and may even use TouchPad hardware. But the future of a WebOS-based TouchPad or a TouchPad 2 is unclear. "We're going to make a decision about the long term future of WebOS within HP over the next couple of months,"Whitman said. But Whitman's comments referred specifically to the WebOS software, not hardware.
So even if WebOS stays in HP, it doesn't necessarily mean the company will keep making WebOS smartphones and tablets. WebOS could be relegated to a software platform for printers and other business devices.
HP internal sources have reportedly told The Guardian that HP's WebOS team expects the company to shut down WebOS operations in the near future.
Ultrabooks Expected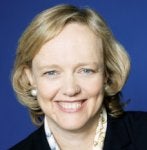 Bradley and Whitman did not spend much time discussing HP's traditional PC business of desktop and laptop PCs. But HP may have something to announce in the coming weeks about its first foray into ultrabooks, the new ultramobile laptop class created by Intel. "We're very focused on having a compelling suite in the the ultramobile space and you'll see that very soon," Bradley said.
To qualify as an ultrabook the device must be less than 0.8-inches thick, have longer battery life, and use a Core 'i' Sandy Bridge processor (until Ivy Bridge chips arrive in 2012). Ultrabooks are also supposed to be priced under $1000, but not all ultrabooks meet that requirement.
Although HP originally wanted to spin off its PC division, the company was still moving ahead with new product plans so it's no surprise to hear Bradley discuss an HP ultrabook. Speculation about a new HP ultramobile PC surfaced as recently as late September when an ad for HP ultrabooks started appearing in Google searches.
Cloud Role is Cloudy
In March, former HP CEO Leo Apotheker laid out the company's cloud services strategy that focused largely on enterprise users and integrating personal online services such as social networking with work devices. Apotheker also wanted to create a new consumer app store for WebOS devices, and to tightly integrate WebOS devices such as printers and PCs so they could easily communicate with each other and share data.
It's not clear how much of that vision Whitman & Co. will keep. Whatever HP does, a consumer level cloud strategy may be involved as Whitman made references to a strategy about the "public cloud." But HP is not ready to discuss specifics just yet. "You will hear more about our cloud strategy as we get into the future vision of HP," Whitman said.
Connect with Ian Paul (@ianpaul) and Today@PCWorld on Twitter for the latest tech news and analysis.