Apple's position in the catbird seat for global smartphone shipments has been short-lived. Just a scant three months ago, the maker of the iPhone knocked Nokia out of the top spot. Now Samsung and its lineup of Android smartphones are top dog.
According to the market researchers at Strategy Analytics, during the last three months, Samsung smartphone shipments reached 27.8 million, or 23.8 percent of all global smartphone shipments. By comparison, Apple shipments during the period were 17.1 million, or 14.6 percent of all shipments, good enough for second place, but barely ahead of Nokia, which the researchers said had 14.4 percent of shipments.
Overall, Strategy Analytics estimated that global shipments of smartphones for the first nine months of the year reached 117 million, a 44 percent jump over the same period last year.
Strategy Analytics analyst Alex Spektor had effusive praise for Samsung and Android in his estimation of what happened in the smartphone market during the third quarter.
"Samsung's rise has been driven by a blend of elegant hardware designs, popular Android services, memorable sub-brands and extensive global distribution," he says in a statement. "Samsung has demonstrated that it is possible, at least in the short term, to differentiate and grow by using the Android ecosystem."
Apple's Loss
Samsung's rise in the shipment picture largely came at the expense of Apple. "After just one quarter in the top spot, Apple slipped behind Samsung to second position," notes Strategy Analytics director Neil Mawston.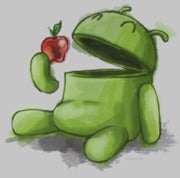 He adds that Apple's global smartphone growth rate slowed to just 21 percent annually in this year's third quarter, its lowest level in two years. Factors contributing to that growth slowdown cited by Mawston included operators awaiting the launch of the new iPhone 4S in the fourth quarter, volatile economic conditions in several key countries and tougher competition from Samsung's popular Galaxy S II model.
In addition to slippage in smartphone shipments, Apple's share of tablet shipments during the period declined, too, to 67 percent from a domineering 96 percent.
In the run up to the holiday season, however, Apple should fare better, if the initial sales of the iPhone 4S are any indicator of growth. During the first weekend alone, the product sold four million units, a new record for an iPhone model.
Nokia's Challenge
What's a bit surprising about these shipment comparisons is that despite all its troubles, Nokia still has a strong market presence. Sure, a year ago, nearly a third (32.7 percent) of global smartphone shipments belonged to the Finnish concern, but it has been trying to sell mobiles while revamping its hardware strategy, moving from the Symbian operating system to Microsoft Windows Phone 7.
"The transition from Symbian to Microsoft as Nokia's main smartphone platform has clearly been a very challenging process this year," says Strategy Analytics director Tim Kang.
Nevertheless, there may be hope for the once king of mobile phones. "The recent launch of the new Microsoft Lumia portfolio has helped to raise Nokia's profile, and Nokia will be hoping the partnership with Microsoft can drive at least an L-shaped recovery in its global smartphone market share over the next few months," Kang told Marketwatch.
Nokia's WinPho 7 strategy should result in a doubling, to 12 percent from 6 percent, of its share of smartphone sales in Western Europe next year, which Strategy Analytics expects to total $117 million next year.
What's important to keep in mind when analysts start to toss around shipment numbers is that shipments aren't sales, and sales are what really determine the success of a platform. As colleague Tony Bradley noted here recently: "Reporting the number of units 'shipped' is like using the Fifth Amendment when testifying in court. Taking the Fifth essentially implies guilt—because if you have nothing to hide there is no reason to hide behind the Fifth Amendment. Similarly, quoting the number of devices that have 'shipped' is the same thing as saying 'we're too embarrassed to tell you how few we've actually sold.'"
Follow freelance technology writer John P. Mello Jr. and Today@PCWorld on Twitter.